BULLETIN # 7:

Report on the University initiatives on Coronavirus 2019 Pandemic



Despite the tragic circumstances that surround the Coronavirus Disease 2019 (CoViD-19) pandemic, the health situation actually united communities to become steadfast and responsive. The Isabela State University has joined community efforts in dealing with the crisis, generating technologies and health products to support medical operations in the province and the region. The CoViD-19 pandemic has also brought profound change in civic operations and public movements that caused the University to formulate academic policies to cater delivery of instruction amid the health crisis.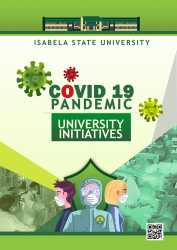 ---
BULLETIN # 6
As the enhance community quarantine continues, ISU has remained active in supplementing efforts to back front line service workers. In the third week of the quarantine period, here are the highlights of Isabela State University's accomplishments with the continuous mobilization of its campuses and R&D facilities.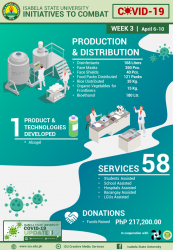 ---
BULLETIN # 5
ISU management enjoins the call to keep-up preventive measures to assure safety amidst the COVID-19 pandemic. This is after enhanced community quarantine (ECQ) is extended until April 30, 2020.
---
BULLETIN # 4: University COVID-19 Initiatives
Here are the highlights of Isabela State University initiatives in combating COVID-19 spread, together with the efforts of the campuses, their respective R&D centers, and the University's partner agencies.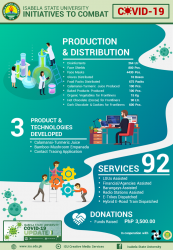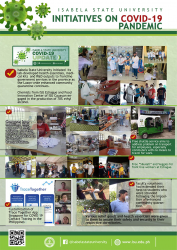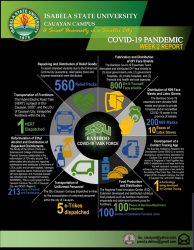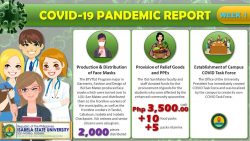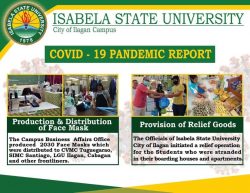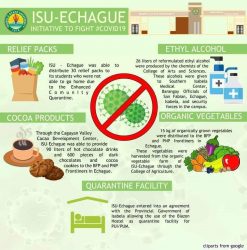 ---
BULLETIN # 3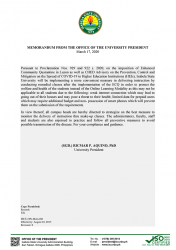 ---
BULLETIN # 2: College Admission Test Suspension
ATTENTION!
Isabela State University College Admission Test (CAT) scheduled on March 16, 2020 is POSTPONED. This is with regards to the health measures of the University in mitigating COVID-19 spread.
Further announcements on the new date of the College Admission Test will be posted here.
Source: University Office of the Students' Affairs and Services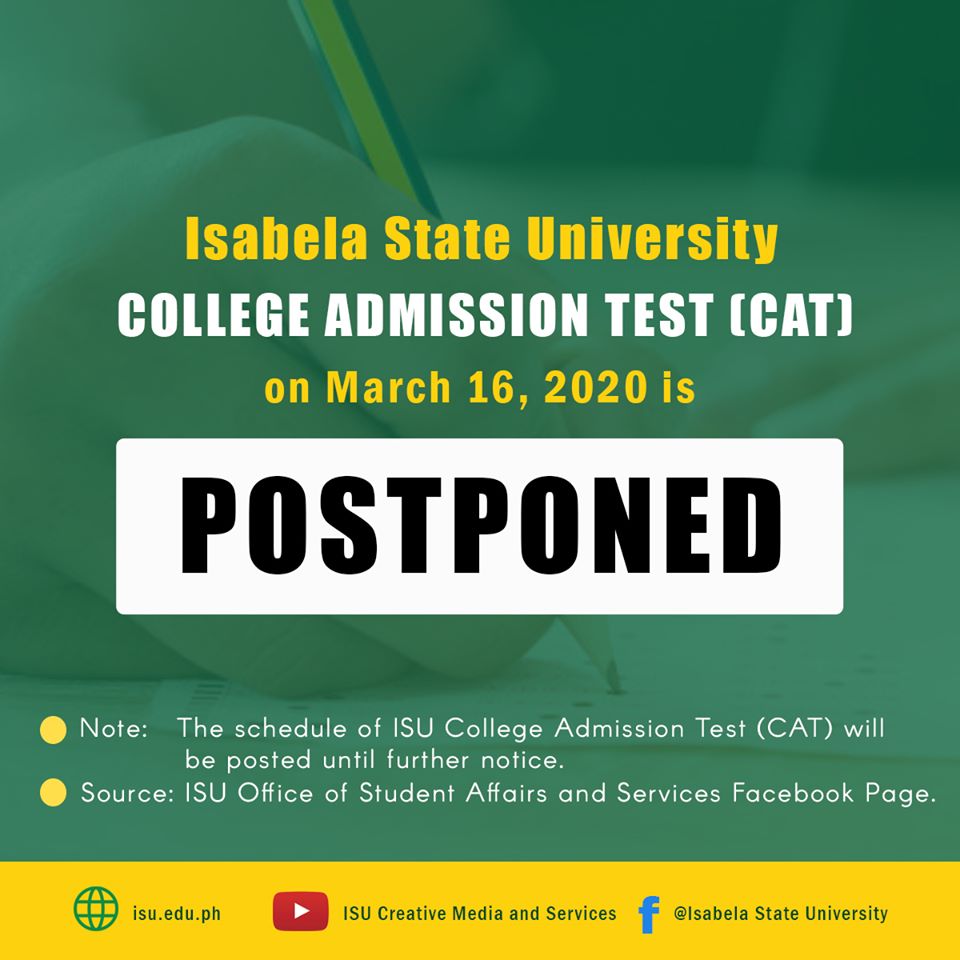 ---
Bulletin # 1: Class Suspension
OFFICIAL: University President Dr. Ricmar Aquino issued Memorandum No. 101, s. 2020 for the suspension of classes from senior-high, undergraduate, and graduate programs, starting MARCH 16, 2020 to MARCH 31, 2020 in the entire University-system as preventive measure on the growing concern of #COVID19 spread.
Faculty members are encouraged to have online platform schemes to deliver lessons while classes are temporarily suspended.
Be Safe!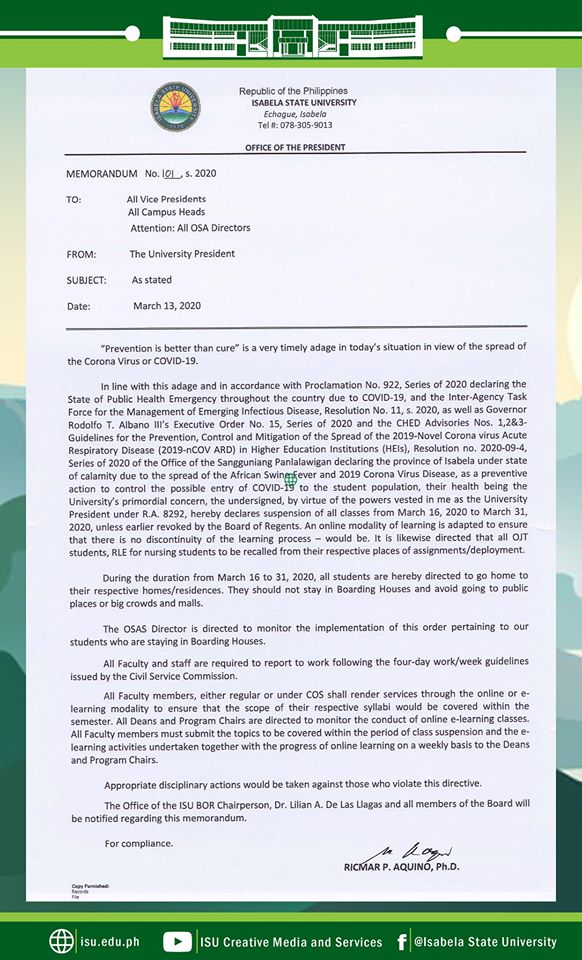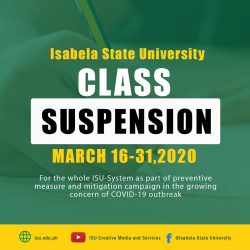 ---
ISU COVID-19 Protocol
Isabela State University gears extreme health measures following the announcement of Enhance Community Quarantine in Luzon.
Designed by University Health Task Force in line with the Department of Health (DOH) procedures, the University Response Protocol tightens health security upon containing COVID-19 spread.
This would serve as the standard health operation of front line workers in all campuses of the University.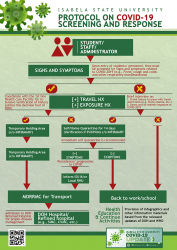 ---
News & Updates
---
---
---
---