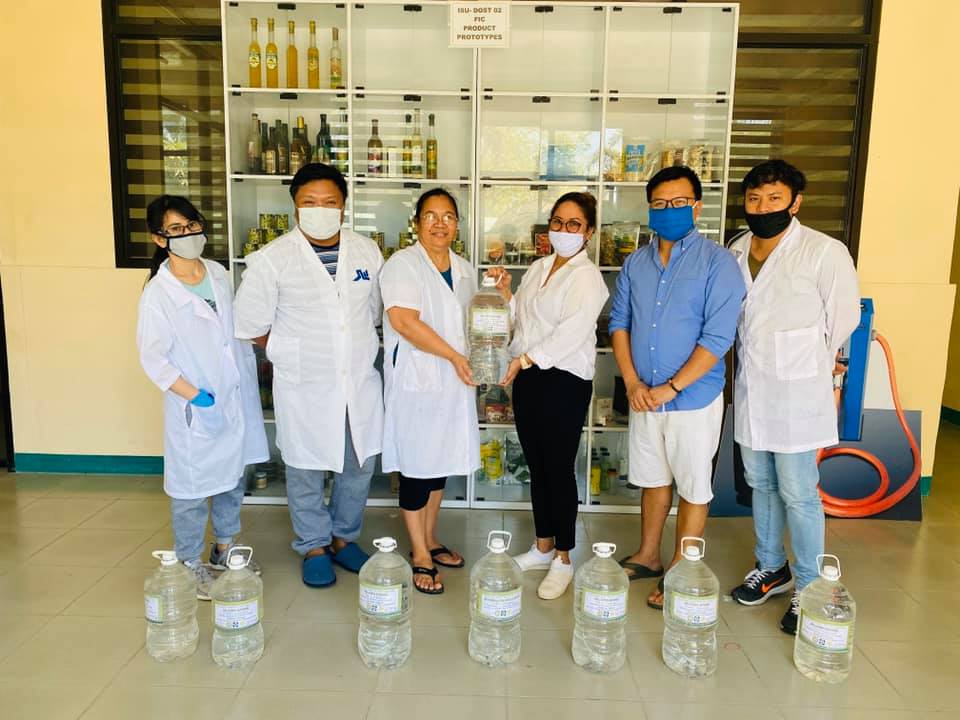 Isabela State University has turned-over its lab-developed health essentials and medical kits to frontline government services in the province as the second week of Luzon-wide enhanced community quarantine continues.
ISU thru its research centers have been able to produce cotton-based face masks and alcohol supplements, along with hand-made face shields.
The University has also monitored and assisted some students who were stranded in their dormitories due to the imposition of enhanced community quarantine.
ISU alcohol production initiative
Chemists from ISU Echague and Food Innovation Center of ISU Cauayan engaged in the production of 70% ethyl alcohol.
These were officially distributed to hospitals and offices around the province with the aim to back supply of alcohol.
The research center at ISU Cauayan has produced 200 liters of 70% ethyl alcohol and were already turned-over to Gov. Faustino Dy Memorial Hospital, Isabela United Doctors, Cauayan Medical Specialist, Cauayan Health Office, Southern Isabela Medical Center, Municipality of Naguilian through its Municipal Agricultural Office, and the Municipality of San Manuel.
LGU Cauayan has provided the raw materials in support of ISU Cauayan's alcohol production.
Meanwhile, ISU Echague has initially produced 20 liters of alcohol and was given to Southern Isabela Medical Center (SIMC). Additional 2 liters was given to barangay officials of San Fabian, Echague.
The campuses were continuously reformulating and processing alcohol products to expand distribution to other frontline service providers.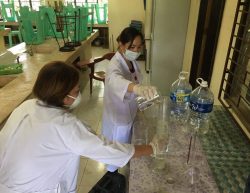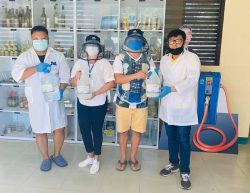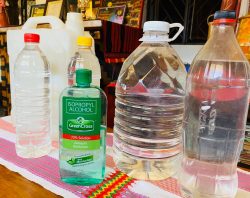 Washable Face mask and "DIY" Face shields
Meanwhile, ISU Ilagan and ISU San Mateo initiated production of cotton-based face mask, responding to the shortage of face mask as supply drops due to heightened concern on the novel coronavirus crisis.
ISU Ilagan thru its Garment Production Center has produced 2,030 masks and were distributed to LGU City of Ilagan, LGU Cabagan, Cagayan Valley Medical Center, ISU Ilagan guards, ISU Echague for the first batch; COVID-19 front liners at Southern Isabela Medical Center (SIMC) in Santiago City, Gov. Faustino Dy Provincial Hospital, Cagayan Valley Medical Center- Tuguegarao City, ISU Cabagan Medical and guards, senior citizens and others.
ISU San Mateo garments team has produced around 2000 face masks and were officially turned over to LGU San Mateo. The LGU will be distributing the produced face masks to front line workers in every barangay of the municipality.
ISU San Mateo eyes on continuing production to extend distribution for other community members.
Since the produced face masks were made out of cotton, they are washable and reusable. They also assure the same protection as reports suggest that the 2019 novel coronavirus, which has caused the coronavirus disease (COVID) crisis, were too large to even penetrate spaces of woven cloth.
Aside from alcohol production, ISU Cauayan has also initiated production of hand-made face shields. These were also distributed along other health essentials and medical kits the said campus has produced.
ISU on the welfare of the students
On the other hand, faculty volunteers had extended their help to students who were stranded following the imposition of enhanced community quarantine.
Various relief, goods and health essentials were given to them to assure their safety and security in their respective dormitories.