We are here to help! The Office of Students Affairs and Services (OSAS) established different mechanisms to support the students and to ensure that these students have the necessary support to succeed academically and to graduate on time. Aside from the Free Education, the University offers an array of scholarship opportunities that would provide additional support to encourage our students, especially those who are financially incapable, to pursue higher education for better opportunities in life.
SCHOLARSHIP OPPORTUNITIES
The University aspires for more inclusive, high-quality education and leadership development as part of its sustainability effort. For financially disadvantaged students who exhibit academic brilliance, leadership potential, and sportsmanship, we provide a range of financial aid and scholarships.
A. University Sponsored
Based on Board Resolution No. 65, s. 2028, The Isabela State University Scholarship Unit offers merit scholarship programs to its deserving students in accordance with the policies and guidelines of the University. It is now a standing policy of the university that those merit scholars with entitlements of free tuition and/or miscellaneous fees shall be given the cash incentives accrued to them as per assessment of their fees.
 

| | UNIVERSITY SPONSORED |
| --- | --- |
| 1 | Athletes Scholarship |
| 2 | Academic Scholarship |
| 3 | Entrance Scholarship with Highest Honor |
| 4 | Faculty Employee Assistantship |
| 5 | ROTC Officer Scholarship |
| 6 | Socio-Cultural Scholarship |
| 7 | Student Organization Scholarship |
| 8 | Student Publication Scholarship |
B. Government Sponsored (Financial/Educational Assistance) 
Aside from Free Tuition Fee and Miscellaneous Fee offered by the government, there are different educational assistance programs given by different government agencies such as Commission on Higher Education (CHED), Department of Agriculture (DA), Department of Science and Technology (DOST), Department of Health (DOH), Congressional Educational Assistance and Municipal Educational Assistance. This educational assistance offered by the government is being availed and enjoyed by thousands of students in the entire university system. The main purpose of these grants is to further assist students who belong to economically challenged families to complete their Tertiary Education Programs in the University.
 
GOVERNMENT SPONSORED (FINANCIAL/EDUCATIONAL ASSISTANCE)
1
Agricultural Training Institute Scholarship Program
2
[su_expand more_text="Show more" less_text="Show less" height="24″ text_color="#333333″ link_color="#0088FF" link_align="left"]
BRO for Education Scholarship ProgramThe Isabela State University (ISU) is one of the partner Universities of the Province of Isabela in the implementation of Bojie-Rodito Opportunities Education Assistance Program. With BRO-Ed, every farmer-family is guaranteed a college scholarship slot as a special assistance to small farmers who dream of having at least one college graduate in the family. This aims at reducing the financial burdens of the farmers in the education of their children, motivating them towards greater productivity.
[/su_expand]
3
CHED CSP Scholarship Program
4
CHED TDP-TES Scholarship Program
5
CHED-TAP Scholarship Program
6
Cong. Inno Dy Financial Assistance
7
DA Agricultural Competitiveness Enhancement Fund
8
DAT – TESDA Scholarship Program
9
Department of Health Scholarship (DOH) Scholarship Program
10
DOST Scholarship
11
LEADS AGRI Scholarship Program
12
Municipal Educational Assistance
13
SIDA-SGP (Sugarcane) Scholarship Program
14
Tertiary Education Subsidy (TES) Scholarship Program
C. Private/Non-Government Sponsored Scholarship
To help more students to finish their Tertiary Education Program, the University partners with different private companies and foundation through memorandum of agreement by offering as scholarship program.
 

| | PRIVATE/ NON-GOVERNMENT SPONSORED |
| --- | --- |
| 1 | Bright Scholarship |
| 2 | Gregorio P. Uy and Lee Peng Scholarship Foundation Inc. |
STUDENT ASSISTANCE PROGRAM
The Isabela State University offers Student Assistantship Program (SAP) which is given to students who render emergency or temporary services to acquire training and gain extra income especially those students who fall into the bottom 20% of household income.
STUDENT LOAN PROGRAM
Based from the Board Resolution No. 91 series of 2003 or the establishment of a Student Loan Program (SLP) where all bona fide students can avail this loan to aid them in their school needs such as payment in their school project/s, allowances, payment of boarding house and among others.
FREE WI-FI AND ELECTRICITY FOR STUDENT OCCUPANTS
The Office of Student Affairs and Services (OSAS) initiated the free wi-fi and electricity bill for student occupants. This program guarantees that all students, regardless of their financial situation, have equal access to digital resources, online classes, and research materials.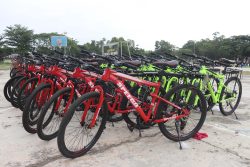 FREE TANSPORT BIKES
The free transport bikes for ISU students which aim to reduce the impact of poverty by removing transportation expenses as a hindrance to their education. The transport bikes are available for use at designated bike stations near the campus' main gate, colleges, and student dormitories, providing easily accessible transportation for students. The transportation bikes are expected to enhance the mobility and accessibility of the university community, while simultaneously reducing the carbon footprint associated with conventional modes of transportation.
FREE LEGAL ASSISTANCE
Through Board Resolution No. 60 series of 2022, the University established a Legal Aid Clinic. The general goal of the program is to legally empower local communities, especially the students from low-income families, by making justice more accessible to them while in the process continue to uphold the principles of social justice, rule of law, and humanity.