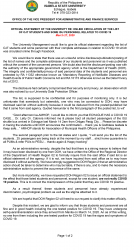 Isabela State University has released official statement this afternoon (April 2) following a breach on social media that discloses data pertaining to ISU personnel and some OJT students for allegedly having COVID-19.
OJT students were recalled from their respective internship from the National Capital Region (NCR) due to heightened health security measures of the University, a week before the imposition of Luzon-wide enhanced community quarantine.
The post contained complete names and addresses of the concerned students, with some posts bearing their images.
The University management thru the Office of the Vice President for Administration and Finance (OVPAF) stressed, "[t]he integrity and confidentiality/privacy of said personal data of the students and personnel are protected by RA 11332 otherwise known as 'Mandatory Reporting of Notifiable Diseases and Health Events of Public Health Concerns Act', and RA 10173 otherwise known as the Data Privacy Act of 2012."
OVPAF also emphasized that the disclosure had compromised their security and privacy, an observation which was also echoed by the University Data Protection Officer.
The University believes that the social media post was not authorized by the Department of Health (DOH). With so, ISU has submitted a letter to the Office of the Regional Director of DOH R02 requesting for their official statement whether or not the social media disclosure was endorsed.
ISU assures that the students and personnel are in "fine and in good health including the one tested positive for COVID 19″.
"They have undergone self-quarantine/isolation since they arrived from Manila on March 14, 2020. And as of this writing, no one from them, including the one tested positive for COVID 19 has the signs and symptoms of COVID 19.", the official statement continued.
PH801, or the University student who was diagnosed with COVID-19, had been immediately rushed to the hospital. As of today, PH801 had been showing promising developments.
The University asks the public to remain informed, rely on official statements from concerned government agencies, follow right information protocols, and "be responsible users of social media".
ISU also urged the public to carry on health security practices in the mid of COVID-19 outbreak.