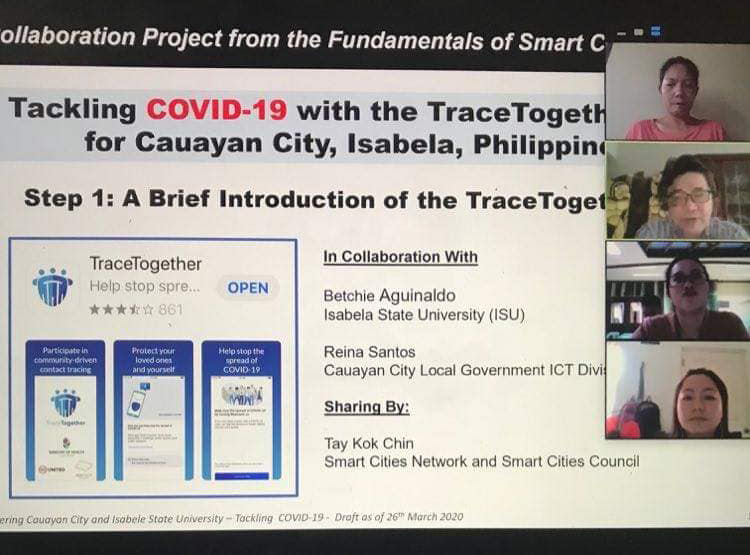 Isabela State University- Cauayan Campus thru its Business Intelligence Research and Development Center (BIRDC) is now to test the adapted Singaporean smart tracing app for COVID-19, in a move to help contact tracing efforts in the country.
BIRDC will lead the region's information technology experts in piloting the said mobile app. As of Wednesday (April 1), the team is source coding registrations.
This is part of customizing the said smart app in Philippine setting.
The ISU campus and LGU Cauayan has created a legal team to review the use of SIM cards. Result of the review will be used by the City Government to craft ordinance on SIM card mandatory registration.
Early on March 20, Singaporean government has launched "TraceTogether", a mobile application that allows users to interactively help in contact tracing processes.
The mobile app was developed by the Government Technology Agency of Singapore (GovTech), the in-house Information Technology (IT) Agency of the Singapore public service, in collaboration with Singapore's Ministry of Health (MOH).
Dr. Betchie Aguinaldo of BIRDC has requested Singapore's Ministry of Health thru Mr. Kok-Chin Tay, Chairman of ASEAN Smart Cities Network, to allow Philippines to adopt the smart app.
ISU Cauayan executive, Dr. Precy Delima, writes in a facebook post (March 29): "Dubbed as 'Customization of Trace Together App Singapore for COVID 19 Contact Tracing in the Philippines', this project will use an open source code that is available to Filipinos and will help in dealing with global threat like COVID 19 pandemic that does not respect boundaries, political systems or economies."
The project will be in collaboration with DOST Region 02, LGU Cauayan City, and PLDT-Smart.