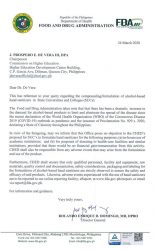 Food and Drug Administration (FDA) signifies support to Commission on Higher Education's (CHEd) proposal for State Universities and Colleges (SUCs) formulation and production of alcohol-based sanitizers.
In a letter addressed to CHEd Chairman, Dr. J. Prospero E. De Vera III, FDA says the agency "poses no objection" to the CHEd's proposal.
FDA sees this as an effort to supplement medical and health supplies amid the heightened concern of COVID-19 outbreak.
The agency writes: "The [FDA] takes note that there has been a dramatic increase in the demand for alcohol-based products to limit and eliminate the spread of the disease."
The supply has been recently faltering, along with other essential health kits such as face mask.
FDA has also reminded CHEd to ensure safety considerations from health personnel, raw materials to facilities and equipment to be "strictly observed to assure ensure the safety and efficacy of said products".
The agency also offers help should concerns rise from the use of formulated alcohol products thru FDA's online reporting facility "eReport". It can be accessed thru www.fda.gov.ph/ereport, or via email report@fda.gov.ph.
Isabela State University has long responded to CHEd's proposal by mobilizing some of its research centers in alcohol production.
Two of the University's campuses, ISU Cauayan and ISU Echague Main, has already turned over a total of 222 liters of 70% ethyl alcohol to various hospitals, offices and front line checkpoints around the province.
ISU Ilagan and ISU San Mateo also engaged in the production of cotton-based, washable face masks, with a total of 4,030 were distributed.