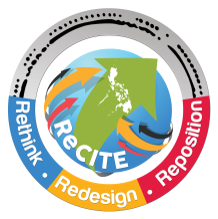 VISION
The Regional Center for Innovation and Teaching Excellence (ReCITE) is envisioned to serve as a regional innovation center for teaching excellence. 
MISSION
As ISU Cabagan holds the distinction being the premiere delivering Higher Education institution in graduate education, it is taking the initiative to lead a Regional Cooperation on research and innovation for teaching excellence.
OBJECTIVES
Serve as a regional hub for the facilitation of regional collaboration in the conduct of innovative research and development activities in teacher education.
Develop and implement innovative training activities for the faculty of teacher education institutions and the basic education teachers
Develop instructional materials to support innovative teaching and learning.
Promote and implement regional networking among teaching professionals for sharing and collaboration.
Establish a learning resource center equipped with digital sharing capabilities to support the needs of teaching professionals in the field.
Project

Date Conducted

Venue

Linkage

Learning Express Programme March 2018

March 10-23, 2018

ISU Cabagan

Sta. Maria, Isabela

Singapore Polytechnic

LGU Santa Maria, Isabela

TFI-Scale (Singapore)- 23 ISU students went on training to Singapore for free

OVERSEAS SOCIAL INNOVATION PROJECT (OSIP) Isabela

September 2-22,2018

September 24-October 5, 2018

Singapore

ISU Cabagan

Delfin Albano, Isabela

Singapore Polytechnic

Temasek Foundation International

Singapore Polytechnic

Temasek Foundation International

LGU Delfin Albano

CHED CONTINUING PROFESSIONAL EDUCATION Grant: Diploma Program for Research in Education:

•Module 1- Basic Research Process

September 22-25, 2018

October 19-21, 2018

Valley Hotel

CHED

•Module 2- Research Instrumentation

October 26-28, 2018

Valley Hotel

CHED

•Module 3-Qualitative Research Methodologies

November 16-18, 2018

ISU Cabagan

EIC HOSTEL

CHED
Singapore Polytechnic (SP)
Spinoff Center of Entrepreneurship, SP
CHED CPE Grants
DepEd
UP NISMED
LGU