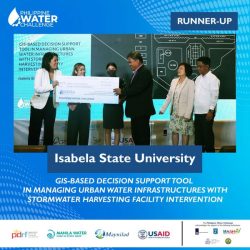 Isabela State University takes a spot among the Top 5 awardees of this year's Philippine Water Challenge (PhlWC) for the initiative and innovation on securing water resources in the country.
Earlier this afternoon (March 22), the team of ISU researchers led by Dr. Rafael J. Padre received the award during the culminating activity of the World Water Day 2023.
ISU's entry to the Water Challenge was the GIS-Based Decision Support Tool in Managing Urban Water Infrastructure with Stormwater Harvesting Facility Intervention.
This was part of the project series of ISU's Smart Water Infrastructure Management (SWIM) R&D Center under Project 3 (P3), which aims to provide management support system for urban water infrastructure that includes a storm storage system and water quality monitoring and treatment facility.
The PhlWC is organized by the USAID Safe Water Project in collaboration with the Philippine Disaster Resilience Foundation, Manila Water Company, Inc., and Maynilad Water Services, Inc., which features innovations from public and private sector in addressing water safety and sanitation management.