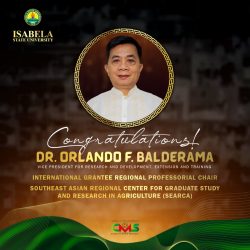 HATS OFF! | The Isabela State University takes pride with Dr. Orlando F. Balderama, ISU Vice President for Research and Extension, as he is set to receive Regional Professorial Chair Grant bestowed by the Southeast Asian Regional Center for Graduate Study and Research in Agriculture (SEARCA).
SEARCA has announced the appointment of Dr. Balderama together with four (4) other Southeast Asian Professors for the academic year 2023-24.
According to SEARCA, the grant recognizes the efforts and contributions of these academicians in the fields of research, instruction, and innovation in support of agriculture and rural development in the Southeast Asia.
For this, SEARCA annually gives grant to educators and academicians in recognition of their works that lead to the realization of Accelerating Transformation Through Agricultural Innovation (ATTAIN), SEARCA's 11th Five-Year Plan (FYP).
Dr. Balderama's academic and leadership acumen stimulated an increased community response to some of the prevailing challenges of time, most notably on the varying hydrological phenomena brought about by Climate Change.
He spearheaded the work on the establishment of the country's first and only Smart Water Infrastructure Management Research and Development Center, a research center accredited by the Department of Science and Technology as a Niche Center in the Regions for R&D (NICER), with its niche discipline on Integrated Water Resource Management (IWRM).
Dr. Balderama is a notable academic scientist, being an Agricultural and Biosystems Engineer by profession. He specializes in the field of hydrology, specifically on integrated water resources management, alongside his expertise on river basin, renewable energy, climate change, and disaster risk management.
As part of the grant, Dr. Balderama will share his work through a public lecture on Enabling Farmers and Local Government Extension Services Address Climate Change Issues using Integrated Crop Modeling Tools and Smart Climate Service.
Since academic year 2012–13, SEARCA has awarded the grant to 56 deserving individuals.