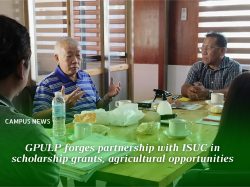 Dr. Emerson V. Barcellano, Cluster Executive Officer of Isabela State University, Cabagan campus along with Dr. Ruby L. Mamauag, Dean of the College of Education (CEd) and Dr. Velmor M. Abellara, OIC Dean of the College of Agricultural Sciences and Technology (CAST) and other officials of the campus gathered today, October 13 with Gregorio Uy Jr. of the Gregorio P. Uy Lee Peng Foundation (GPULP) to discuss scholarship grants and agricultural opportunities in Cabagan campus.
The GPULP Scholarship Foundation was initiated to aid students in continuing their education and empowering deserving students, breaking down barriers, and shaping future leaders with a mission to provide equal opportunities for students from underprivileged backgrounds.
"I hope that our students will do their best in their studies, at the same time I hope that this scholarship will help them to be better," Dr. Emerson V. Barcellano said when asked on his expectations with the scholarship grantees in the campus.
Meantime, the foundation chose a total of ten (10) scholars from the campus, six (6) from the College of Agricultural Sciences and Technology and four (4) students from the College of Education.
Dr. Ruby L. Mamauag expressed that "The grantees are not only given financial support, but they are given series of moral development trainings to change their mindset and transform their lives." "I hope that with this holistic development process, they will emerge as future leaders in the field of education," she added.
On the other hand, agricultural opportunities for the campus were highlighted during the said meeting to help not only agriculture students but also to provide agricultural experiences and products for stakeholders through demo-farms.
"There will be demonstrations of different corn varieties where students will have hands-on training through farm mechanization provided by the organization," Barcellano remarked on the possible benefits of the campus when the projects are realized.
"It is a good thing that these demo farms are inside the campus," he supported.
The said meeting was adjourned with a short photo op.
-ISU Cabagan Tangguyob Correspondent