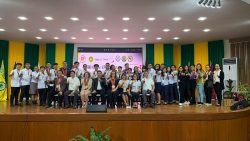 6 ISU students were among this year's participants to the South-North Intensive Program, one of Belgium's largest international learning immersions.
SIP's Philippine leg routes to Central Bicol State University of Agriculture (CBSUA) which commenced January 29 and had recently concluded Friday last week, February 10.
Isabela State University is part of the four (4) public and private higher education institutions in the country actively collaborating with Howest and Vives University for the implementation of SIP.
Marco B. Bulan of ISU Ilagan; John John V. Agas and Yeoj Reus B. Bigornia of ISU Cabagan; Gina Jer O. Ines and Carlo C. Abella of ISU Echague; and Vand Axel Ross Y. Geronimo of ISU Cauayan joined their Belgian counterparts from Vives University and Howest University.
SIP is a collaborative project which lands promising learners in an extensive learning exchange in the Philippines and Belgium, with sessions and on-site immersion to integrate community engagement approaches in creating prototype solutions for stakeholders.
The weeklong learning exchange is supported by Belgium's Province of West Flander Synergy Programme which started in 2018.
It is a multi-stakeholder partnership that brings together 30 countries from academia, local government, NGOs, cooperatives, and people's organizations. (GZ/JF-UMIS-CMS)