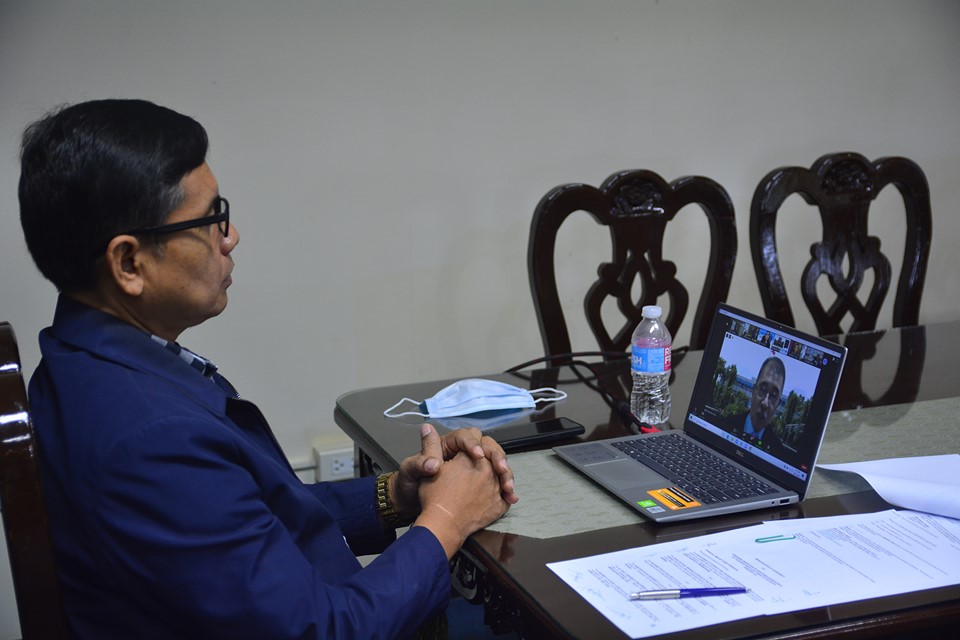 Cagayan Valley's promising scientific community commits in what can be the largest venture on intellectual property rights application as Department of Science and Technology- Region 02 (DOST-R02) virtually launches EINSTEIN 1K on Thursday morning (August 27).
EINSTEIN, or "Engaging Innovation by Nurturing Significance of Thousand Excellent Ideas in the North", is a collaborative project between DOST-R02 together with Intellectual Property Office of the Philippines (IPOPhil), and Higher Education Institutions (HEIs).
It aims to file one thousand (1K) Intellectual Property Rights application in the project's two- year run to boost region's science, technology and innovation (STI) engagement.
Isabela State University joins other HEIs including Batanes State College, Cagayan State University, St. Paul University Philippines, University of Saint Louis, University of La Salette, Inc., Quirino State University, Nueva Vizcaya State University, and Saint Mary's University; including Philippine Chamber of Commerce and Industry Region II- in the virtual signing of memorandum of agreement for EINSTEIN 1K Program.
In a message, DOST Regional Director Sancho Mabborang stressed, this engagement would give opportunity for the region to grow in STI engagement apart from NCR, which would be help in leveling-up the country's position in the Global Innovation Index (GII).
"Most inventions come from NCR, of which only a few came from R02. This urged [us] to change the stance of Region 02 in terms of creating innovations by being major contributor to patents and cultivating research and development ecosystem", Director Mabborang said.
The regional director went on saying, the region has proven its best in producing intermediate products as Region 02 is the leading implementor of Small Enterprise Technology Upgrading (DOST-SETUp).
Director Mabborang mentioned three of DOST-assisted R&D Centers located at ISU: Business Intelligence Research and Development Center (BIRDC), Technology Business Incubation (TBI), and Food Innovation Center- to be contributory to the marketing of innovations toward sectoral development, especially to micro small medium enterprises (MSMEs).
Sec. Dela Peña: "Region 02 is a stand-out!"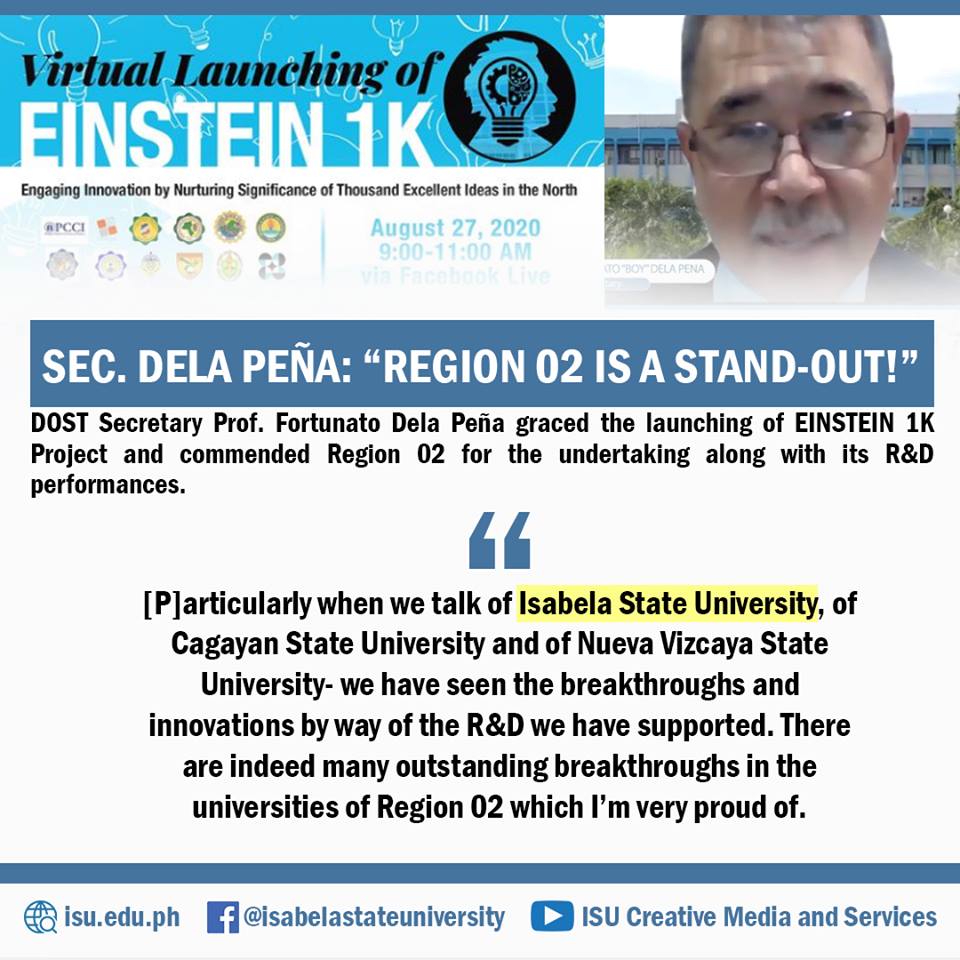 DOST Secretary Prof. Fortunato Dela Peña graced the launching of EINSTEIN 1K Project and commended Region 02 for the undertaking along with its R&D performances.
The Secretary started by discussing seven (7) fundamental pointers on innovation- SCAMPII, which covers sustainability, creativity, agility, manageability, productivity, interdisciplinarity, and inclusivity. Prof. Dela Peña believes that these pointers would guide EINSTEIN 1K in its run.
Prof. Dela Peña expounded Director Mabborang's words on GII. "Innovations are now measured [a]nd countries are being ranked in terms of innovations. We did well in 2019 by jumping 19 steps upward from 73 to 54 out of 129 countries and economies".
DOST Secretary said he's looking forward in this year's result despite constraints on budget and resources. "My goal actually is by 2022, we should be at the top third of the GII rankings, and that is at least something like belonging to top 42 or 43 in the rankings".
GII is an annual ranking of countries and economies in their capacity for innovation. This aims to assist in economic policy strategies and evaluate innovation performance. GII is also considered by UN General Assembly on 2019 as standard innovation measure in realizing Sustainable Development Goals (SGDs).
Secretary Dela Peña also highlighted some of DOST's program, to which he noted Region 02 for having two (2) NICER programs- that includes the Freshwater Fisheries Center at ISU.
NICER, or Niche Centers in the Regions, is under the DOST Program "Science for Change" (S4CP) which according to Dela Peña is focused on "building-up more research capability, bigger research pool for the country, by way of supporting the establishment of niche research centers in the regions".
To Prof. Dela Peña, "Region 02 is a stand-out". Aside from Director Mabborang receiving Career Executive Awards for 2019 early this Tuesday (August 15), the Secetary pointed-out the innovations made thru R&D projects.
"[P]articularly when we talk of Isabela State University, of Cagayan State University and of Nueva Vizcaya State University- we have seen the breakthroughs and innovations by way of the R&D we have supported. There are indeed many outstanding breakthroughs in the universities of Region 02 which I'm very proud of".
ISU President Aquino: HEIs vital in country's quest on GII Standing
University President Ricmar Aquino affirmed ISU's commitment toward EINSTEIN 1K Program, as he believes HEIs are important in producing quality STI outputs in contribution to the country's innovation performance.
In a statement, President Aquino said "ISU is cognizant of its role in actively bringing innovative technology to the people and on the road to technology transfer. The testament of our commitment to this role is the 25 research centers institutionalized in this University".
He added, "let us make HEIs take the lead in producing cutting-edge technologies and make significant impact to the Philippine economy that benefit the country and ultimately, the Filipino people".
Meanwhile, Director General of IPOPhil Atty. Rowel S. Balba committed more capacity-building workshops to set opportunities for tech matching and commercialization.
In his message, Atty. Balba affirms confidence that the province of Region 02 can "contribute the world advance toward its critical goals of today".