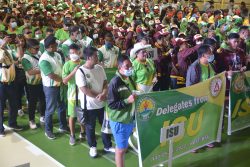 Athletes and sports enthusiasts among the faculty and non-teaching ranks of the Isabela State University gear arm as the 6th Association of State Colleges and Universities (ASCU) Summer Olympics 2022 formally opens this Tuesday (July 20), two years since the pandemic.
About 303-strong contenders all over the university-system gathered for the largest friendship games among state universities and colleges in the north, comprising of the Ilocos Region (Region I), the Cagayan Valley (Region II), Cordillera Administrative Region (CAR), and Central Luzon (Region III).
They will be joining the 3,300 participants at Benguet State University, which is hosting this year's sporting marathon.
Welcoming the delegates and formally opening the games, Dr. Shirley C. Agrupis, President of the Mariano Marcos State University and the ASCU-SN, expressed that the gathering signals what she referred to as "post-pandemic" comeback for SUCs.
"[I]t is heartwarming to see that we gathered the biggest ever delegation in the history of ASCU-SN. Solid North is back. Stronger, more resilient, ready to conquer the new challenges of the new normal. Ready to conquer not only the whole Philippines, but the world", Dr. Agrupis exclaimed.
Dr. Felipe Salaing Comila, President of the host university, embarked on how the pandemic was able to move SUCs together in sustaining the "dreams and destiny" anchored from the founding of the organization.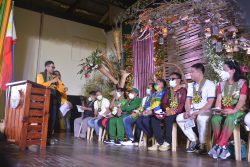 "This is the dream of Ma'am Shirley, the ones who made this class of organization- they made a dream to come up with an ASCU-SN name- the destiny is today. We will continue to make a dream for all of us. Because this is the kind of bonding, we needed this. This is the class of how we address this pandemic. We needed each other", said Dr. Comila.
In an interview, ISU President Dr. Ricmar P. Aquino believes that "OneISU spirit would still be ISU's persevering arsenal in all forms of challenges", and that joining this year's friendship games would allow ISU to share it with the ASCU community.
Dr. Aquino furthered: "the two years of setback in our sporting events due to the pandemic have not simmered down our burning OneISU Spirit. I strongly affirm that it's alive, active. We've gotten better and stronger. And no medals or award would be better than being able to sustain that in the hearts of every ISUan and share that bond and practice with our family at ASCU-SN".
The games will last for 3 days and is set to conclude this Saturday (July 23).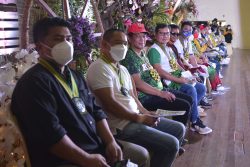 ASCU-SN is a link of 21 colleges and universities engaging institutional and academic collaborations among Abra State Institute of Sciences and Technology, Apayao State College, Batanes State College, Benguet State University, Bulacan State University, Cagayan State University, Don Mariano Marcos Memorial State University, Ifugao State University, Ilocos Sur Polytechnic State College, Isabela State University, Kalinga State University, Mariano Marcos State University, Mountain Province State Polytechnic College, North Luzon Philippines State College, Nueva Vizcaya State University, Pampanga State Agricultural University, Pangasinan State University, Quirino State University, Tarlac Agricultural University, Tarlac State University, and University of Northern Philippines. (GZ/BJC/JF-UMIS-CMS)