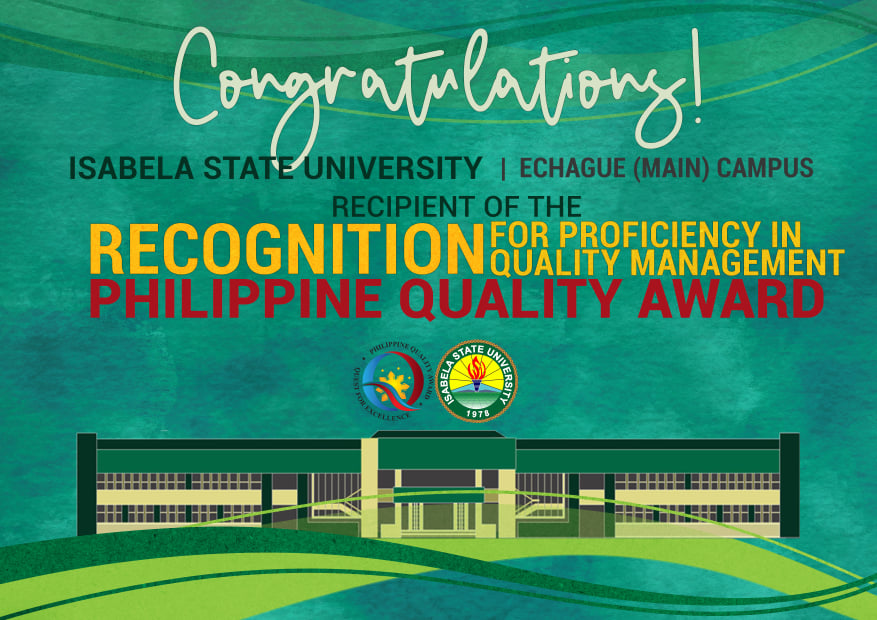 In what can be a remarkable jumpstart this 2022, Isabela State University bars on its hallmark on quality management as it receives "Proficiency in Quality Management" during the 24th Philippine Quality Award (PQA) Assessment Cycle.
The recognition came with the approval of the endorsement by Malacañang earlier this January 13.
With the award, ISU comes to be the first among the state universities and colleges (SUC) in the Cagayan Valley distinguished as a PQA awardee.
PQA is the country's highest distinction accorded to government and private organizations in recognition of performance excellence, which is equivalent to the prestigious Malcolm Baldrige National Quality Program of the United States.
The PQA focuses on seven criteria categories: (1) leadership; (2) strategic planning; (3) customer focus; (4) measurement, analysis, knowledge management; (5) workforce focus; (6) process management; and (7) results.
In a statement, University President Dr. Ricmar P. Aquino expressed ISU's continuing commitment in fostering countryside academic excellence by adhering to national and international quality standards on education and management.
"PQA sets forth the foundation for ISU's Way Forward on Smart Education and Governance, propelling ISU to meet the parameters for a model university meeting international standards of quality education and management", Dr. Aquino explained.
ISU officially subjected its Echague Main Campus to the PQA roadmap in October 2020 with the theme "ISU towards PQA, Where Quality is our Priority", and underwent through virtual site visit last October 2021.