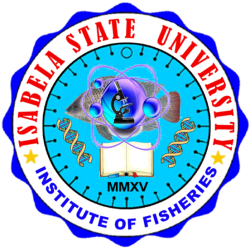 Isabela State University receives the Certificate of Program Compliance in the offering of Bachelor of Science in Fisheries and Aquatic Sciences effective Academic Year 2020-2021.
The Program introduces fisheries students in the scientific study of marine life, quipped with ISU's strong research thrust in aquaculture and indigenous fish species endemic to northern Luzon through its Cagayan Valley Freshwater Fisheries Center.
In effect, the academic program harnesses breed of learners that are proactively aware and knowledgeable to the world's effort in conserving life below water stipulated in the 17 Sustainable Development Goals, Goal 14.
ISU is among the frontrunner research universities in Northern Luzon focused on the study of fisheries, with its Fisheries Center being named as a Niche Center in the Region for R&D (NICER) by the country's Department of Science and Technology (DOST).
Completed Researchers conducted by the FFC includes the Utilization of Plant-Based Antioxidants for Farmed Tilapia, Conservation and Artificial Spawning of "Ludong" Lobed-River Mullet Cestraeus plicatilis, Utilization of Aquatic Plants as Immunostimulants for Freshwater Eel Culture, Amaranthus spinosus Leaf Meal as Potential Protein Source for Nile Tilapia, Survey of Antimicrobial Use (AMU) in Milksfish Aquaculture in the Philippines, and Preliminary Data Assessment on Status of Freshwater Fisheries in the Philippines.
At present, FFC entered into collaboration with various institutes and organizations such as USC and Philippine Council for Agriculture, Aquatic and Natural Resources Research Development (PCAARRD), University of San Carlos, Bureau of Fisheries and Aquatic Resources-Region 2 (BFAR-R02), Department of Science and Technology (DOST), Network of Aquaculture Centers in Asia-Pacific (NACA).