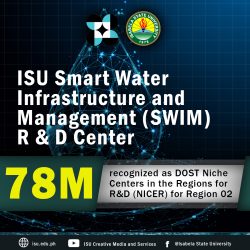 Isabela State University's new research and development center on SMART Water Infrastructure and Management (SWIM) gets recognized by the Department of Science and Technology (DOST) as a Niche Centers in the Regions for R&D (NICER) for Region 02.
DOST's Executive Committee this afternoon (May 18) has approved the budget allocation of almost Php 78 Million for the establishment of the said center.
SWIM R&D is a project proposal for NICER that aims to introduce innovative water management approaches thru institutionalizing a university-based water research center to undertake R&D education, capacity building programs in the water resources sector and river basins, and provide technical extension services.
The center will be reinforcing the region on the problems of recurring water hazards due to inclement weather conditions, which bring subsequent damages to agricultural properties. The recent Typhoon Ulysses which stormed North-eastern part of Luzon in November last year, left around Php 2.7 billion worth of agricultural damages.
In approaching these kinds of water hazards, the center will undertake 4 complementary R&D projects: (1) Smart Water Resources Planning and Development of Water Resources Projects and Interventions; (2) Integrated Assessment and Analysis of Hydraulic Assets for Sustainable and Resilient Flood Control Infrastructures; (3) GIS-Based Decision Support Tool in Managing, Monitoring and Applying Intervention of Water Infrastructure for Smart Cities: Case for Cauayan City; and (4) Smart Water Control Infrastructures for Effective Irrigation Management.
The programs will run for three (3) years, which will be implemented in Region 02, with ISU at the lead along the SUCs in the region, partner government agencies, and local government units.
ISU's SWIM R&D stands as lone R&D center that caters to Integrated Water Resources Management (IWRM) problems in the country.
The center comes with a total budget allocation of about 146 Million Pesos, which aside from DOST, had an additional grant shared by some Congressmen, Cauayan Smart City and other LGU's, other government agencies, and SUC's in the region.
Office of Civil Defense (OCD) and National Irrigation Administration (NIA) also provided budget for the establishment of monitoring stations in sub-basins. (JF/GZ/BJC-UMIS-CMS)