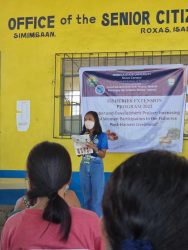 The Provincial Institute of Fisheries is the Flagship Program of Isabela State University Roxas Campus.
It was established with the assistance of the University to promote fisheries education in the municipality of Roxas as well as its nearby towns. The mandate of the Institute was widened to include higher fisheries education, research and as well as extension education under its functional fold.
Recognizing the pivotal role played by the Institute in the community and its stakeholders, the ISU- Provincial Institute of Fisheries, Extension Services Unit, Municipal Agricultural Office (MAO) represented by Dr.
Mark Gapultos
of the LGU-Roxas in collaboration with the Bureau of Fisheries and Aquatic Resources (BFAR Region 02) conducted a training/seminar entitled "GENDER AND DEVELOPMENT PROJECT: Increasing Rural Women Participation in the Fisheries Post-Harvest Livelihood" last May 12-13, 2022 at Simimbaan, Roxas, Isabela.
It was a series of training for two days and the said activity was led and conducted by BFAR Region 02 in the persons of Ma'am Zenaida Ignacio and Sir Jim Bryan Bugarin, the lecture proper was done in the morning and the hands-on activity started at 1 pm. Some of the highlights are the presentation on the basic sanitation and standard operating procedure in the handling of fish, and principles and guidelines in making different fish value-added products.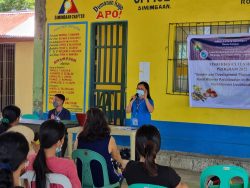 Each component has been discussed thoroughly with the participants/ beneficiaries. The lecturers also highlighted the importance of proper packaging that will surely hit the market. The activity on day 1 ended at 5 pm right after the three groups finished the packaging of their products and stored them in the freezer.
This extension activity was supported and actively participated by the Campus Administrator, Dr. Eddie I. Peru;Extension Services Unit headed by Prof. Victorina
Vicky Sagun Ventura Metilla
; MAO Roxas; BFAR Region 02 and the Prime mover of activity the PIF Faculty and Students headed by its Dean, Dr. Mary Joy L. Asprec.
The main objective of the training is to develop skills of the members of Federated RIC or the women organization in the selected barangay of Roxas, in line with the fish processing or value-adding of fish that increases of earning modest income to break the stigma on women on the patriarchal view of the society.