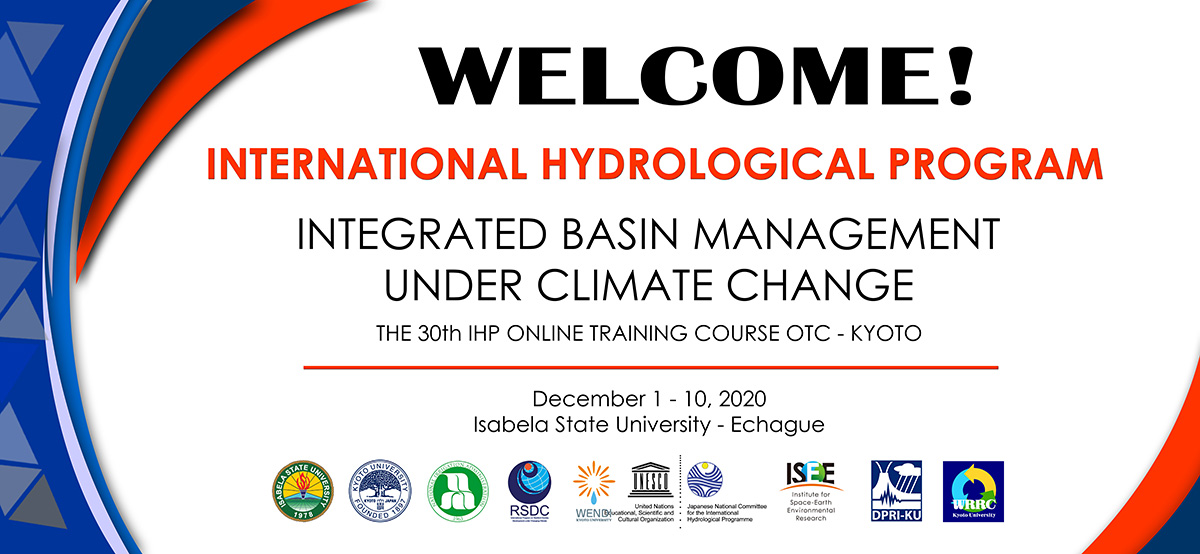 In the continuing commitment in advancing research studies on water management, the Isabela State University has taken part in the 10-day Online Training Course (OTC) on Integrated Basing Management under Changing Climate hosted by Kyoto University in Japan.
This is part of Japan's contribution to the UNESCO International Hydrological Programme (IHP), toward developing resilient societies thru social adaptation and countermeasures from resulting scientific studies in meeting the requirements of future water availability under changing climate.
Participants around Asia-Pacific region were immersed in the aspects of water resources and water-related disasters under climate change.
They were also introduced to hydrological extreme analysis, assessing the impacts of climate change, rainfall-runoff-inundation modelling, reservoir sustainability, optimum operation and management, as well as knowledge of the interrelationship with river ecosystem and environment.
ISU's Research Commitment in Water Management
The University has long been active in the generation of scientific knowledge on water management and climate change toward empowering communities, partnering with national and international agencies in various R&D ventures.
ISU has an on-going dialogue with universities and research centers in Japan and Vietnam for a two-year R&D project on Integrated Flood and Sediment Management in River Basins for Sustainable Development.
Asia-Pacific Network for Global Change Research (APN-GCR) will sponsor the said project with Dr. Sameh Kantoush of Kyoto University as the proponent.
The research team will take a look at Vietnam's Vu Gia-Thu Bon and the Philippines' Cagayan river basins to identify countermeasures for unprecedented floods and severe droughts that widely affects agriculture-related activities.
In addition, the University on April last year has participated in the International Workshop on Bypass Sediment Tunnels at the National Taiwan University for the same cause. The University also gone far to host International Training Workshop on Integrated Water Resource Management (IWRM) in River Basins for Sustainable Development last February 2019, that led to the mainstreaming of the Climate Change Adaptation and Disaster Risk Management in Integrated Water Resource Management of River Basins in Asia.
Adding to these is ISU's hosting of another international seminar-workshop on Flood and Sediment Management in November last year. The said workshop tackled an integrated approach of effective water reservoir management with combination of mitigation-adaptation responses, especially in the Magat Dam Reservoir.
The University has fully institutionalized research centers dedicated for climate change and water resources studies. ISU's commitment on this undertaking has also resulted to the advance studies offering on Master of Science in Disaster Risk Management and Climate Change Adaptation at ISU Cabagan Campus, having had received Certificate of Program Compliance from CHED on August last year.(JF/GZ/BJC-UMIS-CMS)
References from: