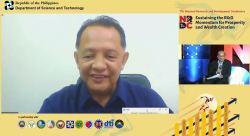 Earlier today, Dr. Jonathan N. Nayga, the Dean of the College of Agriculture (ISU-CA) and Director of the Cagayan Valley Small Ruminants Research Center (ISU-CVSRRC) presented the innovative systems in advancing technology- based goat production at the 7th National Research and Development Conference organized by the Department of Science and Technology.
Dr. Nayga highlighted the Goat Research and Development Framework of the university, which served as basis when different goat programs and projects were crafted. The R&D framework provided specific technology-based interventions to improve goat production management.
Through the years, this framework has been translated into various technologies, products and processes that makes goat production more profitable through various R&D grants from the Department of Science and Technology- Philippine Council for Agriculture, Aquatic and Natural Resources Research and Development (DOST-PCAARRD), Commission on Higher Education (CHED) and Department of Agriculture- Bureau of Agricultural Research (DA-BAR).
These technologies were also transferred to different goat raisers across the country through the Farmer Livestock School on Goat Enterprise Management (FLS-GEM), a comprehensive training modality developed by DOST-PCAARRD. At present, more than 3,000 goat raisers in 100 local government units across the country were trained in collaboration with various SUCs and DA RFOs and DA ATI.
After the training, the goat raisers improved their raising practices which can be verified by increase inventory, increase slaughter weight of stock and low mortality rate recorded.
In order to secure market for stocks produced, ISU-CVSRRC initiated the development of ready-to-eat chevon products as well as vacuum-packed prime cuts. These post-production activities were conducted to transform the per head basis of selling of goats and to introduce retailing scheme of finished products.
To sustain this effort, a private company was incubated under the DOST-PCAARRD-ISU Agri Aqua Technology Business Incubation Program in order to commercialize the products. At present, a start-up company has already invested for the establishment of food processing facility dedicated to chevon processing.
On the other hand, the trained goat raisers were organized and registered either as association, organization or cooperative in Securities and Exchange Commission (SEC), Department of Labor and Employment (DOLE) and Cooperative Development Authority (CDA).
All these R&D efforts are toward the attainment of the ISU's mission as university for people, nature, innovation and entrepreneurship. (GZ/BJC/JF-UMIS-CMS with Ms. Aubrey Joy Balbin, CVSRRC)