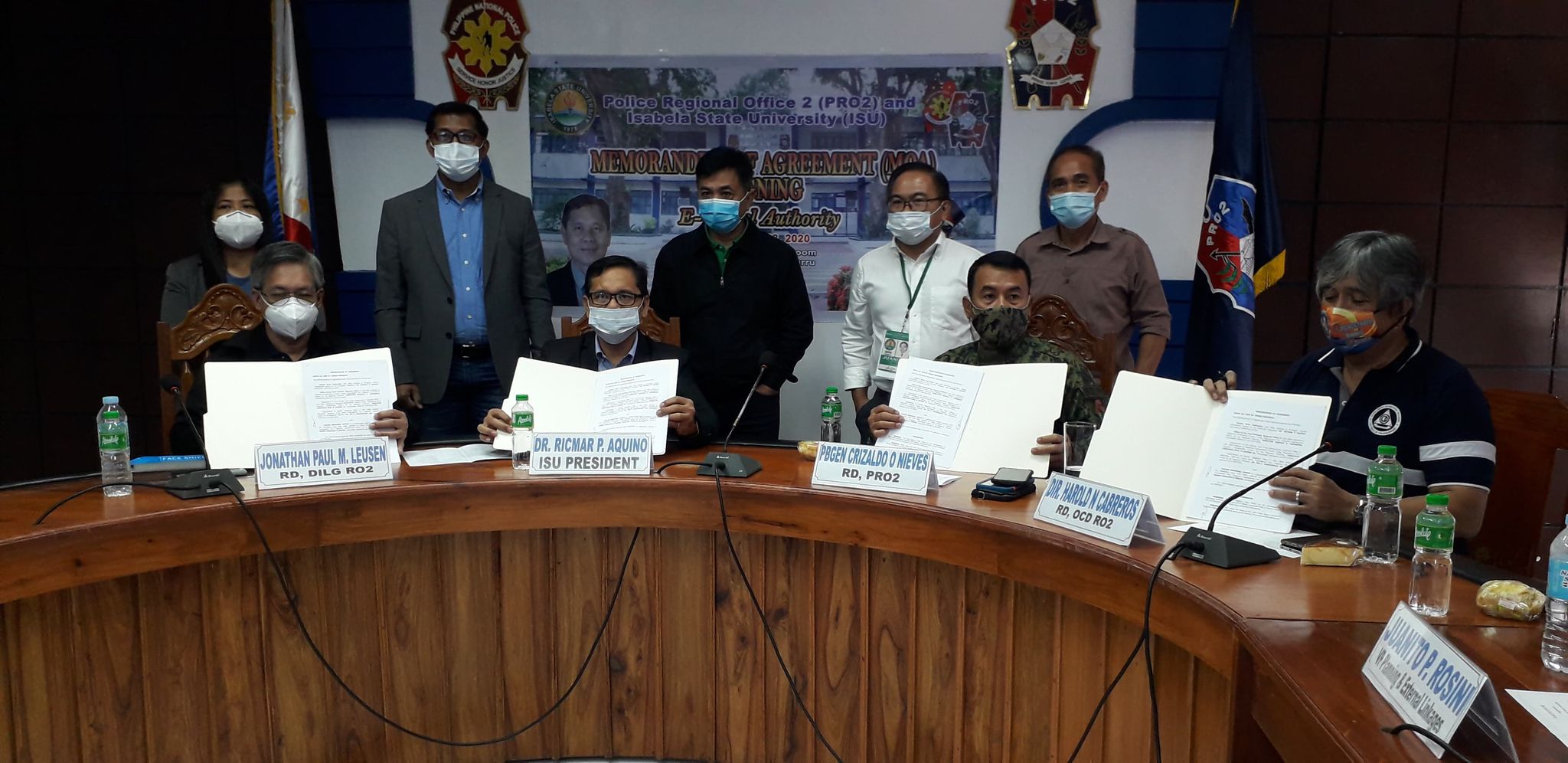 Despite the prevailing events early this week in the aftermath of Typhoon #UlyssesPH- which left multiple towns submerged in a wide-scale flood throughout the Cagayan Valley, Isabela State University continues to provide innovative "smart" solutions thru development and transfer of automated digital systems in the on-going fight against CoViD-19.
Partnerships have been inked early this Wednesday (November 19) as the University transferred its developed support systems "E-Pass" and HealthGuard Contact Tracing System to regional offices of Philippine National Police (PNP-R02), and Office of Civil Defense (OCD-R02), respectively.
E-Pass is a document support system especially developed to digitize access and issuance of travel pass and related CoViD-Shield documents. Upon use, the system appears to have been synced with the Municipal Health Office's database on immediate information needed to issue travel authorities that would make ease of the processes, at the same time minimizing physical transactions.
The system was developed by the Business Intelligence Research and Development Center (BIRDC) of ISU Cauayan Campus- same R&D center that developed the HealthGuard- as per the request of PNP Cauayan where it is also being currently piloted.
The ceremonial agreement signing was attested by regional directors Hon. Jonathan Paul M. Leusen (Department of Interior and Local Government-Region 02), General Crizaldo O. Nieves (PNP-R02), General Harold N. Cabreros (OCD-R02), and ISU President Dr. Ricmar P. Aquino.
Also part of the venture was the discussion of a promising system currently being developed by BIRDC to aid for a faster disaster risk mitigating action- the Project ODeSSEE or "Optimization of Decision Support E- System for Preemptive Evacuation".
Typhoon UlyssesPH prevailing aftermath
Thousands of civilians had been evacuated from their homes in Cagayan Valley as the region suffered what can be the worst flooding situation this year, as Typhoon Ulysses scourged the Northern and Central parts of Luzon.
Its massive rains coupled with the steady rise of water level after the successive inclement weather disturbances Tonyo (Nov.08), Siony (Nov.05), and Rolly (Nov.01) left houses from low-lying towns submerged.
Events like these have been taken into the dialogue of the government agencies and the University on ODeSSEE.
As per data of National Disaster Risk Reduction and Management Council (NDRRMC) from November 14, there were already 73 recorded casualties in Cagayan Valley. In addition, UlyssesPH left around Php 2.7 billion worth of agricultural damages, and Php 5.2 billion worth of infrastructure damages.
ODeSSEE toward flood and climate-resilient Cagayan Valley
Extending the look on the current status of disaster preparedness after UlyssesPH, the Isabela State University moved for the development of ODeSSEE for flood and related disaster-mitigation action, which would be integrated with the HealthGuardPH application.
This would marry the two systems into a smart solution on impending hazardous health and meteorological events- in context of the moment, the CoViD-19 crisis and upcoming weather disturbances.
Specifically, the project ODeSSEE aims to apply data-driven process in creating preemptive evacuation plan for flood disaster, integrating CoViD-19 profile which includes affectations of CoViD-19 cases in respective barangays of partner LGUs and CoViD-19 Zoning to manage disaster preparedness.
It will also create a centralized database of evacuation centers of LGUs to be monitored by OCDR2.
Applying scientific data processing of historical data OCD-R02 on flood disaster and CoViD-19 database of HealthGuard application, the project ODeSSEE aims to generate safe, unsafe and alternative evacuation areas for flood disaster while securing the CoViD-19 quarantine facilities and individuals to prevent spread of the virus.
Result of Hazard Vulnerability Assessment reveals that Cagayan Valley is highly susceptible to hydro-meteorological hazards specifically rain-induced flood and rain-induced landslide.
Furthermore, the OCD-R02 –Cagayan Valley Disaster Risk Reduction Management Council (CVDRRMC) has no existing real-time application in monitoring the Local DRRM actions of respective municipalities to have a basis on what particular extent of disaster response assistance can be provided.
Project ODeSSEE is thru the funding support of Department of Science and Technology- Philippine Council for Industry, Energy and Emerging Technology Research and Development (DOST-PCIEERD).(JF/GZ/BJC-UMIS-CMS)