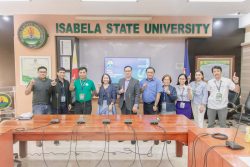 Isabela State University looks to a promising venture to an international investment promotions conference in the conduct of this year's China-ASEAN Expo after being tagged by the Department of Trade and Industry.
DTI-02 Regional Director Leah P. Ocampo met with ISU President Dr. Ricmar P. Aquino Tuesday morning (February 7) to introduce the plans and preparations to the CAExpo which is set to take place on September 16-20, 2023 in Nanning, China.
With the initial arrangement, ISU will be the Investment Priority Area through the merits of its partnership with the Philippine Economic Zone Authority as the main Investment Promotion Agency, with the support of the Bureau of Immigration.
This poses ISU as the lone institution to be featured in the National Pavilion, one of the three hallmark exhibits of the CAExpo, including the Commodity Pavilion, and the Investment Promotion Pavilion.
ISU gets a chance to promote investment viabilities from international locators and investors to its on-going venture to establish KIST Parks, flagship program of PEZA through the Special Economic Zone Institute to increase investment potentials and balance the economic activities throughout the country.
In a statement, ISU President Dr. Ricmar P. Aquino expressed delight after being tagged by DTI, saying this would be a first walk for the University in an international exhibit. Dr. Aquino furthered this will give value-adding to ISU's on-going efforts on internationalization, saying this would open ISU's brand of education to its neighboring borders.
ISU Vice President Dr. Orlando F. Balderama raised that the University also look to present its research outputs which already gained momentum in the public sector. Research outputs, ranging from agri-business, industrial components, and tech commercialization, will be consolidated for presentation, says Dr. Balderama.
With this, investors and promising locators can also look to empower macro-small-medium enterprises currently engaged by ISU under its research and extension service areas.
The University views that this year's international expo boosts ISU's global investment potentials in the waning phase of the global health crisis.
The China-ASEAN Expo platform is an annual cross-border event that exhibits the investment viability of participating countries and their constituents under the framework of China-ASEAN Free Trade Area (CAFTA). – -GBZ/JF-UMIS-CMS