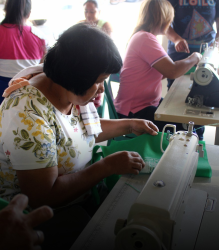 In a collaborative effort, Isabela State University – San Mateo Campus (ISU), the Department of Trade and Industry Isabela Provincial Office (DTI), and the National Irrigation Administration (NIA) have taken a significant step towards empowering the local communities of Olango and Bimonton in Mallig, Isabela. This initiative aims to equip residents with essential skills, fostering a path towards sustainable livelihoods and economic independence.
The two-day Skills Training on Rags Weaving and Eco Bags Sewing, held on September 22–23, 2022, served as a platform for residents to acquire skills that can help them secure a more stable future. The program received warm appreciation from the President of Silangan Mallig Farmers Association Inc., Mr. Andres A. Eda, and Olango Barangay Captain Hon. Carlito G. Antonio, who recognized the valuable support provided by ISU, NIA, and DTI.
The training was inaugurated with gratitude expressed by these local leaders, highlighting the ongoing support of ISU, NIA, and DTI through their programs and services. Mr. Sonny L. Dapiaoen, Irrigators Development Officer, also extended his thanks to the participants for their enthusiastic attendance.
Director for Extension & Training Services at ISU San Mateo Campus, Prof. Jenalyn C. Andres, Ed. D., provided a motivational speech that ignited the participants' spirits and prepared them for the training ahead.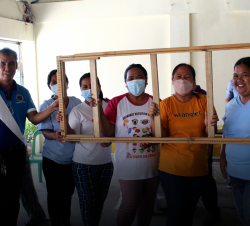 The program featured a comprehensive introduction to the art of rag weaving, led by Ms. Rosalinda B. Velasco and Dr. Jenalyn C. Andres. Hands-on training was facilitated with care and precision, thanks to the assistance of JBC Kristine Joy M. Agriam, ensuring that the participants could grasp the techniques effectively.
On the second day, Ms. Velasco returned to cover materials, suitable measurements, and techniques for creating high-quality products, ensuring that the participants were well-prepared to meet market demands.
An exciting addition to the program was a discussion on cultivating an entrepreneurial mindset, pricing and costing products, and an introduction to digital marketing, delivered by JBC Agriam. This segment aimed to inspire participants to consider launching their own businesses and equip them with the right mindset and tools.
To conclude the event, Engr. Mar Heisen A. Yanos, ISU San Mateo Campus R&D/KTM Director, challenged participants to apply their newfound knowledge to future business endeavors, furthering the mission of sustainable livelihoods. He also expressed gratitude to all the collaborators for their instrumental role in the successful execution of the program.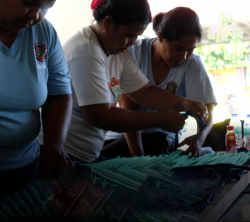 The participants left the program with supplies and sewing equipment in hand, showcasing their preparedness to utilize these resources. With a total of 25 residents from Barangay Olango and Bimonton in Mallig, Isabela, including housewives and barangay officials, this initiative not only equips individuals with valuable skills but also paves the way for a brighter and more self-reliant future for these local communities.
ISU's holistic approach to community development through skills training and entrepreneurship support serves as a beacon of hope, fostering self-reliance and sustainable livelihoods in the region.