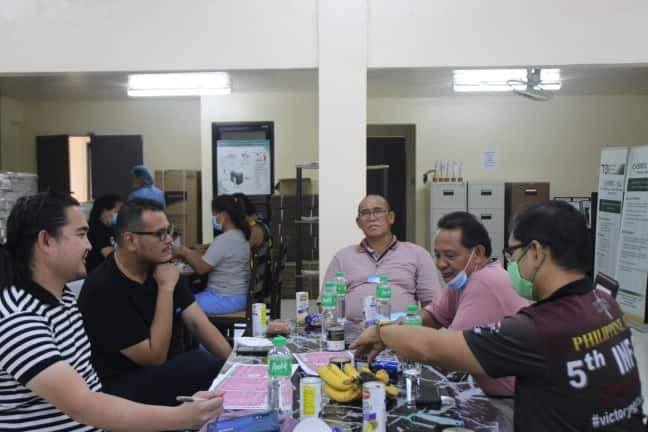 Lab-produced medical essentials of Isabela State University to combat COVID-19 were eyed for market upscale as agri-based company offers hand to commercialize them.
Tagchem Dragon Distribution Incorporated and the University, thru DOST-PCAARRD-ISU Agri-Aqua Technology Business Incubation (TBI) Program, will be entering commercial arrangements to expand distribution and promotion of alcohols and other disinfectants.
Earlier this Friday (April 24), University President Dr. Ricmar Aquino and Echague Campus Executive Dr. William Eustaquio sat with Mr. Theo Garcia of Tagchem Dragon to discuss initial plans and measures in key areas of operation.
Cagayan Valley Small Ruminants Research Center (CVSRRC) Director and TBI Project Leader Dr. Jonathan N. Nayga identified interventions for the commercialization which included patent landscaping, Intellectual Property Right (IPR) application, Food and Drug Administration (FDA) license to operate accreditation, and Product Registration.
ISU thru its R&D arm developed various health essentials including alcohols and face masks along the first weeks of Luzon-wide enhanced community quarantine to back faltering supplies. These medical kits were distributed to hospitals and front line service posts around Isabela.
The commercialization initiative would be formalized thru tripartite agreement of the University, Tagchem Dragon, and Department of Science and Technology- Region 02 (DOST-R02).
University's new commercial partner
Tagchem Dragon Distribution Inc. (TDDI) grew from a small wholesale agriculture supply store to a national agri-solutions provider, with known products such as Triple 8, Tagluscide, Quadro 8, Tag 357, King Arthur, Makamasa, Rice Pro, Dragon Methomyl, Dragon Cartap, Mettle Pro, Dragon Humus, and Tagchem Mancozeb.
TDDI has a nationwide network of more than 50 provinces in Luzon and Mindanao, serving nearly 500 clients in the country with three satellite offices.
ISU's Technology Business Incubation
The University is not new to relative business and commercial ventures. With growing research outputs from R&D undertakings on agriculture and food-based products, the University has been able to put-up a commercialization arm thru its Technology Business Incubation (TBI) Program.
Operating under CVSRRC, TBI also assists technology generators in micro, small and medium enterprises, spin-off and start-ups commercialization, and develop S&T-based businesses on agriculture and food-based technologies.
Details and Photo from Ms. Aubrey Joy Balbin, Biologist II, CVSRRC