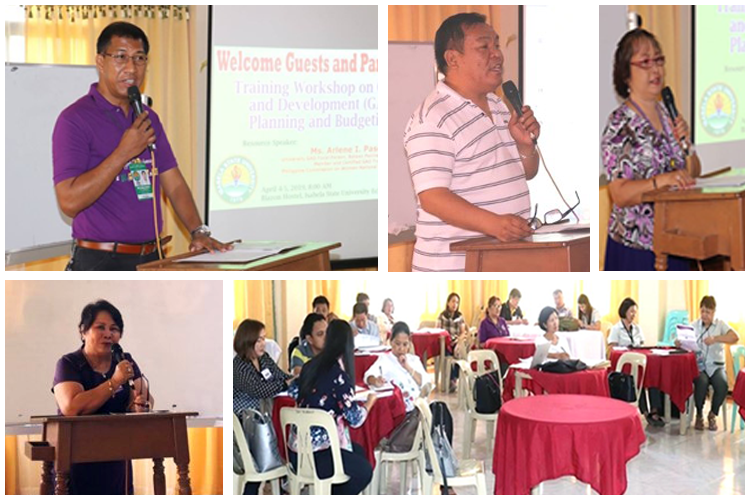 "We should not drag men down just to raise women."
This was emphasized by the gender equality advocate and University Gender and Development (GAD) Focal Person of Bataan Peninsula State University Ms. Arlene I. Pascual during the Training-Workshop on GAD Planning and Budgeting slated on April 4 – 5, 2019 at Isabela State University – Echague Campus.
The training-workshop aimed at deepening the understanding of social relations of gender, gender mainstreaming frameworks, and tools. It was also conducted to formulate an Action Plan in order to gradually institutionalize elements of gender-responsive policies, plans, and programs in the various areas of operations of the university.
The throng of the participants were the Budget Officers, Planning Officers, and GAD Focal Persons in the University.
As mentioned by Dr. Pedrita N. Medrano, University GAD Focal Person, the undertaking will help the university in coming up with an enhanced, unified, and realistic GAD budget for 2020.
In a message of Dr. William R. Eustaquio, Executive Officer of ISU – Echague, delivered by Dr. Artemio A. Martin Jr., Campus Director for Administration, he affirmed his full support to the plans and agenda of GAD in the University. "I assure you that the administration will continue to support and will be one in pushing the agenda of GAD in the academe," he mentioned.
On the other hand, Atty. Romano P. Cammayo, Vice President for Administrative and Finance Services, believed that the said training will empower women in the university. "I hope that through this plan, we will be able to achieve our objective of empowering women in our institution," he said.
Sessions on Gender Analysis and Gender Analysis Tools, Gender Mainstreaming Evaluation Framework, and GAD Planning and Budgeting followed the opening program of the training.