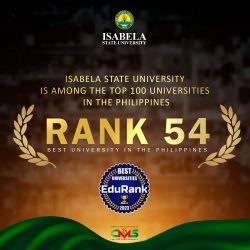 #TatakISU   | Edifying Quality and Excellence in Countryside Education: ISU is among the Top 100 Universities in the Philippines!
In a list published by EduRank, an independent metric-based ranking org, Isabela State University ranked 54 of the Top 100 Universities in the country, naming the University as the leading SUC in the Cagayan Valley Region.
ISU has been also ranked 3,094 out of 5,830 universities in Asia, and 7,865 of 14,131 universities in the World.
According to EduRank, the final score of ranking was based on 3-part metric scheme which includes: Research Performance comprising 45%, Non-academic Prominence of 45%, and Alumni Score of 10%.
In evaluating the research performance, EduRank utilizes Microsoft Academic Database to retrieve scientific publications and citations. For the non-academic prominence, EduRank indicates that they refer to the methods of Google and modern search engines in calculating the reputation of individual web pages. Meanwhile, the Alumni Score reflects the combined number of page views that a university's graduates and other affiliated individuals have on all 43 languages of Wikipedia.
EduRank uses a proprietary database with an index of 44,909,300 scientific publications and 1,237,541,960 citations to rank universities across 246 research topics. (GZ/JF-UMIS-CMS)