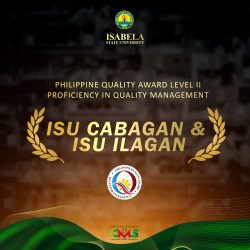 Isabela State University officially receives its Two (2) trophy recognitions for Level II Proficiency in Quality Management- Philippine Quality Award (PQA) in the just-concluded 2022 PQA Conferment Ceremony at the Malacañan, this morning (March 17).
ISU Ilagan and ISU Cabagan Campuses of Isabela State University got into the list of six (6) other institutions across the country awarded with PQA Level II recognition.
These include Bukidnon State University, Caraga State University, DOST-PCIEERD, and University of Southern Mindanao.
With the new award, Isabela State University remains the only state university in Northeastern Philippines to have received the PQA recognition, and the only academic institution with three (3) successive PQA citations.
The PQA is institutionalized through the Republic Act 9013, which serves as a competitiveness template in encouraging public and private organizations in the Philippines to set up quality measures for organizational efficacy that adheres to international quality standards.
It has four (4) stages of recognitions categorized according to the maturity of organizational standards and quality operations, from Commitment (Level I), Proficiency (Level II), Mastery (Level III), Performance Excellence (Level 4). This year, the University of Mindanao clinched the highest level of PQA award, which makes it the first academic institution to have been conferred with the award.
"Today, we recognize and applaud the exemptional achievements of organizations across various sectors that have persistently demonstrated their determination to maintain quality and performance excellence", said Executive Secretary Lucas P. Bersamin in a keynote address.
He explained that the PQA provides a tool for organizations to support the country's Philippine Development Plan 2023-2028 by fostering transparency and efficiency in governance toward ensuring an environment with equal opportunities for every Filipinos.
"Through continuous improvement and innovation, our awardees and recipients contribute to the creation of future-ready Filipino workers, and a more inclusive, prosperous society for all", exclaimed Sec. Bersamin.
ISU President Dr. Ricmar P. Aquino joined the conferment ceremony held at Malacañan and received the trophy recognitions with ISU Ilagan Campus Executive Dr. Alfonso R. Simon and ISU Cabagan OIC-Executive Dr. Roselle Beltran. (GZ/JF/UMIS-CMS)
Gallery: Photo Credits to Isabela State University Ilagan Campus