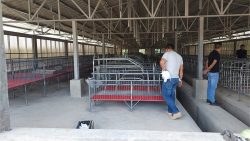 CAUAYAN CITY, Isabela – As the Isabela State University-Cauayan Campus (ISU-CC) nears the completion of its PHP10 Million swine multiplier and techno-demo farm at Sitio Manalpaac, San Pablo of this city, the city government of Cauayan is hopeful this will help boost the swine production which was devastated by the appearance of African Swine Fever (ASF) on July 2019.
Today, April 22, 2022, the city government is strictly working on the city ordinance "Bantay ASF Barangay Program" creating a task force to establish effective ASF monitoring, surveillance, and reporting system, strengthen biosecurity measures at the farm and border control, intensify awareness campaigns and other capacity-building activities, engage and strengthen barangay, for ASF prevention and control, assist in the recovery and repopulation of previously affected areas, and generate and mobilize appropriate resources for the effective implementation of the ordinance.
"This project is crucial and timely in the repopulation and recovery measures of the City Government from the effects of ASF," said Cauayan City Mayor Bernard Faustino M. Dy.
The City Government through Mayor Dy fully backed this project since its conception by donating the 2.8 hectares lot to ISU for the establishment of the project. He believed that this project would have a great impact on the employment and business sector of the city alongside curbing the adverse effects of ASF.
This project will not only cater to the needs of farmer-beneficiaries from the province and neighboring areas but will also be a training ground for ISU students and youths interested in quality hog raising. This is where the students put into practice what they learned from the classrooms. In addition, the farm is expected to provide extension support services and enhance policies focused on producing quality swine.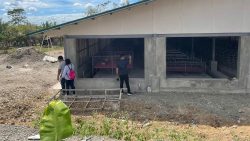 This is a grant from the Agricultural Training Institute (ATI) under the Integrated National Swine Production Initiatives for Recovery and Expansion (INSPIRE), part of the Department of Agriculture's (DA) recovery and repopulation plan for the swine industry which was crippled by COVID 19 and ASF.
It was awarded to ISU on December 2, 2021, through a Memorandum of Agreement (MOA) signed by DA Secretary William D. Dar, Ph.D., ISU President Ricmar P. Aquino, Ph.D., and DA National Livestock Program Director and ATI-International raining Center on Pig Husbandry Center Director Ruth S. Miclat-Sonaco, DVSM, in the presence of DA Undersecretary- designate for Livestock William C. Medrano, Ph.D. and ISU-CC Executive Officer and project leader Precila C. Delima, Ph.D.
As per MOA, DA provides the funds and monitors the construction of the Swine multiplier building and artificial insemination laboratory, procurement of AI and Technical equipment, stock of swine breeders, supplies, and others. On the other hand, ISU receives the fund and implement the project in compliance with the provisions set by DA, responsible for the processes involved in the completion and realization of the project. DA and ISU agreed their full support and cooperation for the successful implementation of the project.
Of the budget, PHP 3.5 million was allocated for the swine building and artificial Insemination laboratory which includes 60 sow level building with PHP 1.5 million, Farrow weaner, waste management facility, basic biosecurity facilities, laboratory building, boar pen with collecting pen; PHP 2.5 for the AI and Technical Equipment comprising microscope, sterilizer, semen refrigerator, sperm decimeter, water bath, dummy sow and others; PHP 2.5 for Stock/Swine breeders, and PHP 1.5 for supplies and others like feed raw materials and supplement mixes and drugs and biologics. (ERB)