As the Isabela State University embarks on a weeklong international tour to secure partnership deals among peer institutions, ISU routes to an international plenary session as delegate from the Philippines for the FSMART 2022 Conference. The event saw to the establishment of partnership between ISU, Thuyloi University, and Da Nang University of Science and Technology- allowing ISU to expand its efforts within the framework of APN in tackling SDG 6.5 toward water security and sustainable water resources management.
     In the framework of the Asia-Pacific Network for Global Change Research (APN) project between research and academic committees from the Philippines, Japan, and Vietnam, a plenary session was undertaken to discuss the FSMaRT 2022 project in the last month of the year.
     The ongoing commitment of the delegations from Isabela State University, Kyoto University, Da Nang University of Science and Technology, and Thuyloi University has exemplified to improve their corners on the 1st International Symposium on Integrated Flood and Sediment Management in River Basin for Sustainable Development (FSMaRT) 2022 project.
     This is part of efforts for the UN Sustainable and Development Goals (UN SDG) which drives the ISU in creating an impact toward sustainability. As a guide for action, UN-SDG 6.5 states that "By 2030, implement integrated water resources management (IWRM) at all levels, including through transboundary cooperation as appropriate". IWRM enhances the efficiency and effectiveness of water resource management by exchanging information and collaborating with related organizations.
     Furthermore, it aims to provide a forum for researchers, scientists, engineers, and scholars from industry, academia, and government to share their experiences, amazing ideas, and innovative research on the impacts of climate change and human interventions on reservoir sedimentation, flood inundation, agricultural practices, and river and coastal erosion. In addition, this conference would also be a platform to discuss practical issues, challenges encountered as well as the solutions adopted.
     Part of the event is the signing of a Memorandum of Understanding of Isabela State University with Thuyloi University and Da Nang University of Science and Technology in Vietnam on the 16th and 18th of December, respectively. While Dr. Orlando Balderama, the Project Leader of FSMaRT of ISU, was invited to be the guest speaker.
A number of key discussions take place such as: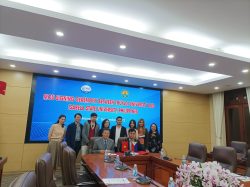 Session 1: Hydrological Modelling and Sediment Management – A
Session 2: Hydrological Modelling and Sediment Management – B
Session 3: Artificial Intelligence for Hydrological Application
Session 4: Flood Risk Assessment
Session 5: Remote Sensing and GIS for Flood and Water Security
Session 6: Hydrological Modelling and Sediment Management – C
Session 7: Climate Change and Sustainability
     The next efforts for sustainability will take place in the Philippines on December 17 – 19, 2024. Isabela State University will be the host for the 2nd International Symposium on Integrated Flood and Sediment Management in River Basin for Sustainable Development. This is in line with the theme, "Synergizing Science, Technology and Policy Solution to Strengthen Climate Adaptive Integrated Water Resources Management Practices in River Basins. (GZ/JF-UMIS-CMS with ISU Public Relations and External Linkages)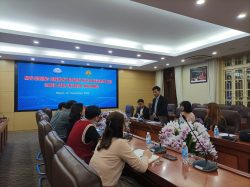 —-
Details from ISU Public Relations and External Linkages
Published December 19, 2022 | Official FB: https://bit.ly/3G6995q