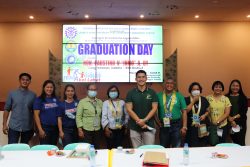 Echague, Isabela- "if we talk about quality education, I can always guarantee the academic services provided by Isabela  State University", the TESDA provincial director of Isabela, Dr. Vilma C. Cabrera, CESO IV said during the graduation ceremony of the TWSP pioneer graduates on March 3, 2022 at De Venecia Hall, ISU Echague Campus.
50 students successfully completed the competency requirements; 25 for Horticulture NC III and 25 Agricultural Crops Production NC III, as presented by the TVET-CAC Director, Dr. Joel V. Panganggaan confirmed by PD Cabrera.
Cong. Faustino A. Dy V, guest speaker and project partner reiterated the significance of agricultural education in the country, "we need to support agricultural education because our local resources in the province of Isabela have to be maximized and we are glad that Isabela State University has been very supportive and responsive to this aim of our local government", he said.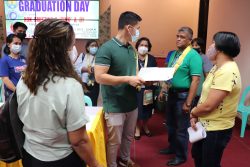 TWSP is a support funded program initiated by the Isabela State University Technical Vocational Education Training – Competency Assessment Center (TVET-CAC), Technical Skills Development Authority- Isabela, and 6th Congressional District Office of Isabela aiming to train 50 objectively selected scholars on upscaled Horticulture and Agricultural Crops Production leading to employment both local and international.
The conferment of the certifications highlighted the testimonies of the graduates. "I am one of the outplaced workers due to pandemic but I am very thankful to TWSP because it gave me a hope that I can find a decent and competitive job, it may not be here but abroad." Ms. Rosemarie D. Laron, TWSP scholar said.
"Technical Vocational Education and Training have been identified as a vital source of human resources and effective breeder of competitive global workforce. This program provides a huge counterpart in maximizing the development of our local manpower with internationally competitive training credentials" said Dr. Jose P. Gallena Jr., the Campus Executive Officer.(GZ/BJC/JF-UMIS-CMS with Christian Lloyd Taguba, ISU Echague Tangguyob Correspondent | ISUE Today)