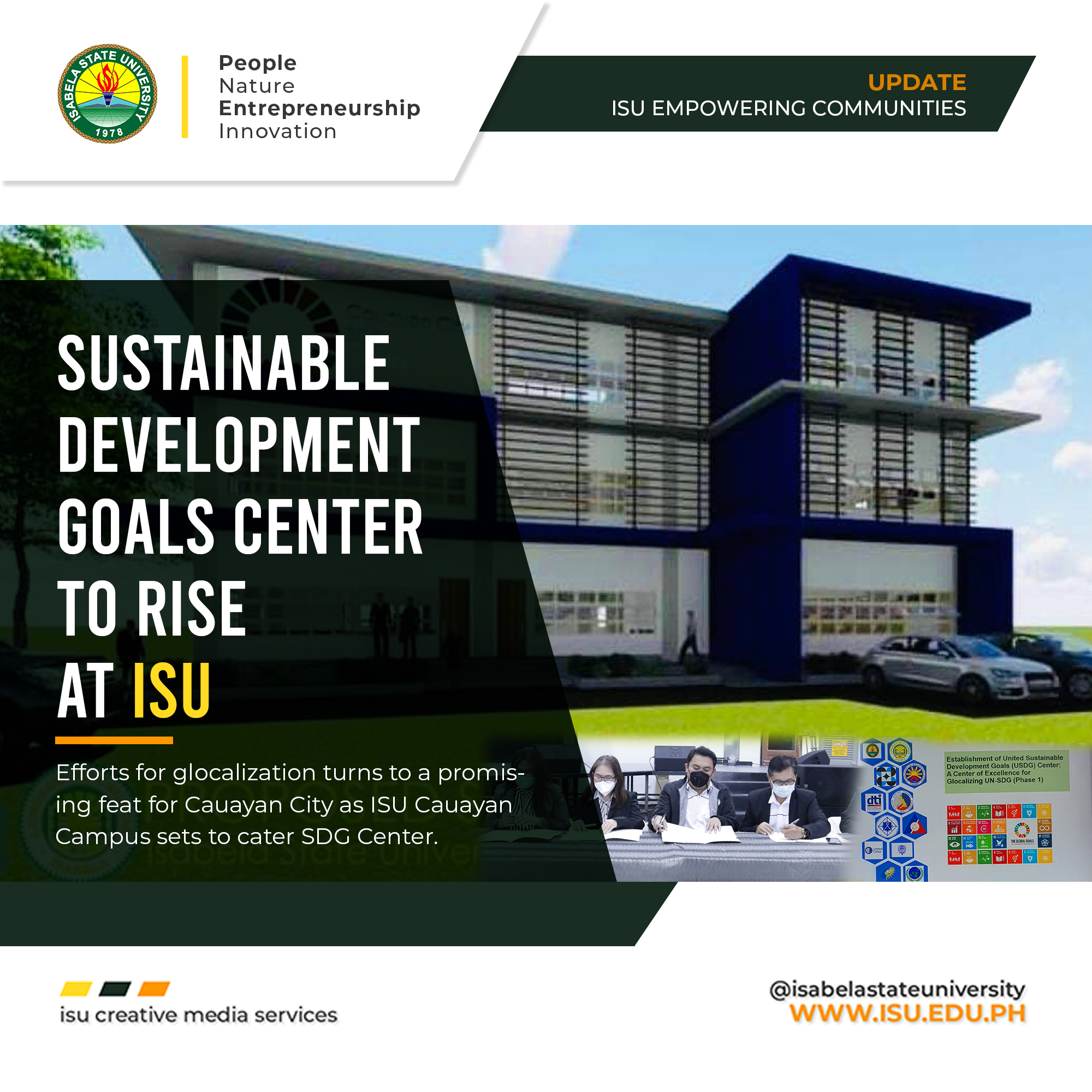 Efforts for glocalization turns to a promising feat for Cauayan City as ISU Cauayan Campus sets to cater SDG Center.
NEWS | Isabela State University enters the glocalization initiative as it sets to house what can be the first United Sustainable Development Goals Center in the Philippines.
This is part of the City Government of Cauayan's roadmap towards glocalization, with ISU serving as its partner in the academe.
The City Government early this October launched the glocalization initiative, which aims to bring the worlds priority areas for cooperation to the city, complementing its pursuit towards becoming a Smart City.
The USDG Center that would be established at ISU-Cauayan Campus, is being eyed to hasten the glocalization of United Nation's SDGs by providing extension, training, and technical services not only in the city, but also in the Cagayan Valley.
"A dream turned to reality", as ISU Cauayan's Executive Dr. Precy Delima writes in a Facebook post, believing that the center would broaden the University's community engagements.
Dr. Delima further stated: "The establishment of the (center) will set the roadmap in becoming an SDG-engaged university and create impact toward sustainability".
A message of support, University President Dr. Ricmar P. Aquino assured the University's commitment to the SDGs:
"The Isabela State University being a university of people, nature, innovation and entrepreneurship chooses the path to self-sacrifice. Our existence as a Higher Educations Institution is defined by the relevance of our programs and services to the present time and its impact to the future. And knowing that whichever choice we make cannot be reversed, on the behalf of the Isabela State University, I fully give my uncompromising commitment of support to the United SDG Center. It is both an opportunity and an honor. To our partners, count on us."
A MoA signing inauguration ceremony was held earlier this day (December 2) at Isabela Convention Center in line with the celebration of the Regional Science and Technology Week.