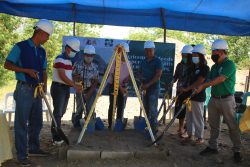 Isabela State University together with Agricom Best Foods Corporation have partnered in setting up a slaughterhouse and meat processing facility in the Province of Isabela.
The ground-breaking ceremony took off May 16 for the establishment of said facility at Villa Basilia, Sta Filomena, San Mariano, Isabela.
This undertaking is part of the long partnership of Isabela State University (ISU) and Agricomponent Corporation (ACC). In 2015, ACC signed an agreement with ISU for the commercialization of various chevon valley products. It is the first signed technology commercialization agreement of ISU and among the DOST-PCAARRD R&D outputs. In 2017, ACC enrolled in DOST-PCAARRD-ISU Technology Business Incubation (ATBI) Program. The company's exposure to ATBI Program played a major role in establishing a strong foundation of the company on goat agribusiness. In 2020, ACC's subsidiary company, Agricom Best Foods Corporation enrolled in ATBI Program for the commercialization of chevon-based products.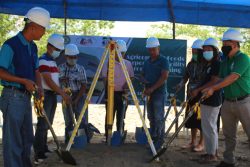 As part of the company' exit plan from ISU-ATBI Program, the project entitled, Establishment of food processing facility for sustainable commercialization of chevon-based technologies was proposed to DOST-PCAARRD Start-up Program and was later approved for implementation. This project is one of the seven first grantees of the DOST-PCAARRD Start-up Program in 2021. The proposed initiative generally aims to develop sustainable value chain on goat in Region 2 by (1) establishing food processing facility intended for chevon products production outside ATBI; (2) enhancing and accelerating the commercialization of chevon food products; (3) conducting studies for the expansion of market; and (4) promote goat production among partner farmer cooperatives and associations for stable supply of raw materials.
DOST-PCAARRD has provided 3.9M grant, while Agricom Best Foods invested 10.4M for this project. With this investment, the start-up company will embark on social entrepreneurship. They will support the trained and organized goat raisers across the region by establishing and creating market for the stocks that they produce.  The company engage as proposed to introduction and promotion of contract growing scheme with them. Likewise, the company will also expand the market in the next year to sustain the business.
With this development, it is expected that more than 1000 goat raisers in the region will be benefitted from the operation of the food facility. The start-up company will also play a big role in sustaining the marketing of chevon products. In the long run, it is hope that it will be helpful in providing income and creating job opportunities in the rural areas, while addressing food sufficiency in our country.
The groundbreaking ceremony was attended by ISU President, Dr. Ricmar P. Aquino, ISU-CVSRRC Director, Dr. Jonathan N. Nayga, ISU-San Mariano Campus Administrator Dr. Clariza PSTC-Isabela Director Mr. Lucio Calimag, LGU- San Mariano, Isabela Vice Mayor Mr. Dean Anthony Domalanta and DOST-PCAARRD Technology Transfer and Promotion Director, Mr. Noel A. Catibog and other staff joined via Zoom. (GZ/BJC/JF-UMIS-CMS with Ms. Aubrey Joy Balbin, Biologist II, CVSRRC)