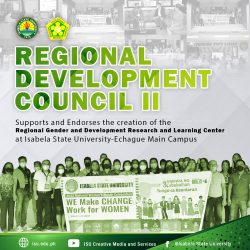 Isabela State University is set to house a new regional center that would be focusing on gender and development (GAD) after getting support and approval from the Regional Development Council.
RDC thru Resolution No. 02-11 s. 2022 endorses the creation of Regional Gender and Development Research and Learning Center during its 122nd Joint RDC Full Council and Advisory Committee.
The center would reinforce national efforts on strengthening regional mechanisms for GAD by streamlining gender responsive governance in the region.
ISU's existing Gender Resource Research and Development Center will serve as the counterpart Research and Learning Center (RLC), which would cater knowledge generation on gender research and women's studies.
The RLC will be managed by a Technical Working Group led by the ISU GRRDC Director, along with GAD focal persons of Batanes State College, Cagayan State University, Nueva Vizcaya State University, and Quirino State University as members. (GZ/BJC/JF-UMIS-CMS)