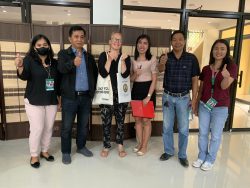 ECHAGUE, Isabela – – Isabela State University looks to a promising internationalization venture this year as Howest University of Applied Sciences works on partnership with the International Organization for Climate Change Adaptation and Disaster Risk Reduction Management (IO-CCA-DRRM).
The Belgium-based university intends to partner with the international organization for possible academic and research undertakings as revealed in a close door meeting between Ms. Katelijne Demeyere, Global Engagement Officer of the Howest Foundation International Office, and Dr. Orlando P. Balderama, ISU Research Vice President.
Dr. Balderama, who also serves as one of the incorporators and trustees of the org, says that ISU can provide support and academic resources to the upcoming venture considering its R&D competence and academic stature.
With Howest' domain on applied science, Dr. Joel M. Alcaraz, professor at ISU's College of Engineering, says the college is a tested partner in terms technology-driven innovations.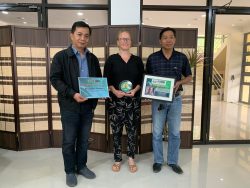 Dr. Alcaraz shared that the research projects of the College of Engineering has already seen to the needs of the farmers' in soil and water management. He also detailed the college's efforts in capacitating its faculty members through Faculty Exchange Programs.
He also says that the engineering curriculum integrates machinery design as means to immerse the learners on industry-grade approaches to innovation. This translated to the various technology transfer engagements between the University and its collaborators.
The visit is part of the weeklong stay of the Belgian delegation to the on-going Open Design Method Project activities spearheaded by the ISU's College of Engineering, where the signing of the partnership agreement between ISU and Howest took place earlier this week (June 27).
This agreement sees to various academic and research engagements, faculty and student mobilization through South Intensive Program (SIP), and potential scholarship and internship opportunities for learners to study abroad.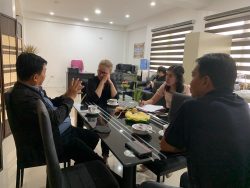 The international organization was formed after academic leaders and climate enthusiasts convened for the 1st International Conference on Governance and Partnership, and Technology Exhibition on Climate Change Adaptation (CCA) and Disaster Risk Reduction Management (DRRM) in October 2018.
The University was among the organization's pioneer members, where ISU President Dr. Ricmar P. Aquino is currently serving as the 1st President of the said international collaboration. (GZ/BJC/JF-UMIS-CMS; Photos and details gathered from River Basins for Sustainable Development Official Facebook)