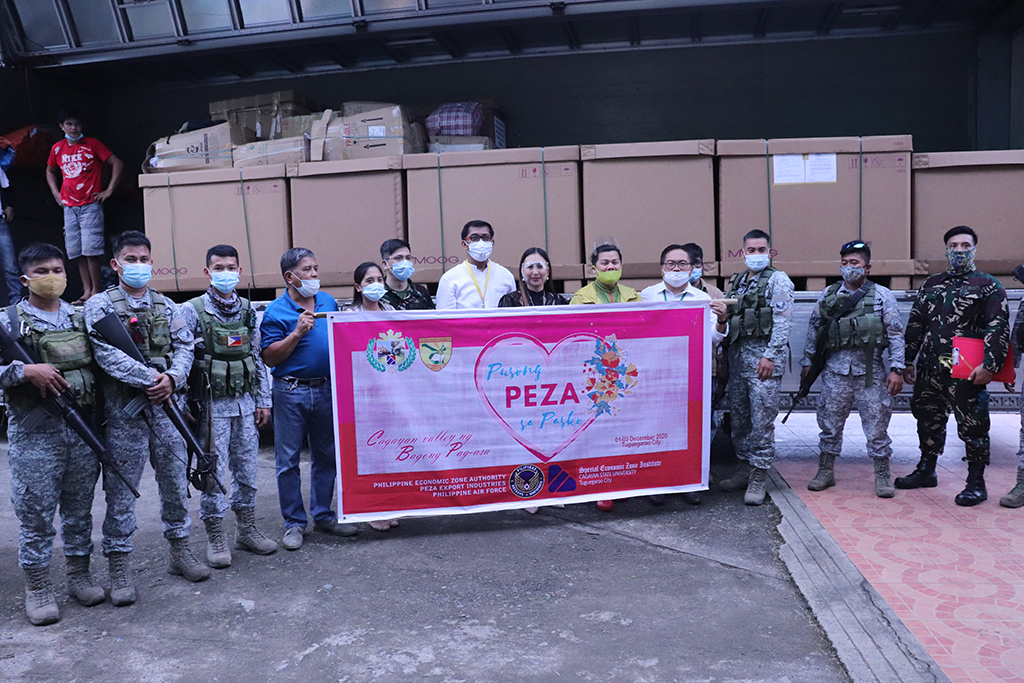 Feature: Amid the surge of overwhelming events in the aftermath of Typhoon #UlyssesPH, coupled with the continuous battle against CoVid-19 global health crisis, Isabela State University (ISU) and Philippine Economic Zone Authority (PEZA) have rolled-out initial strategic directions in revitalizing economic vibrance in Isabela, the Cagayan Valley Region, and the Northern Luzon. 
The University has just become part of the PEZA family in the goal of building economic cooperation thru Research, Instruction, Production, and Extension toward honing a generation of world-class Filipinos for an exported-oriented Cagayan Valley. As such, ISU had been given the honor to house the Special Economic Zone (SEZ) Institute to nurture development of ecozones for Region 02 as per the joint venture. 
PEZA and ISU held the First Regular Session of the SEZ Institute Council early this December 5 to discuss initial areas of operation, as well as to deliver humanitarian services to the heavily affected areas in Isabela and Cagayan after Ulysses' onslaught. PEZA arrived with what can be an early Christmas treat for the Isabelinos and Cagayanos.
Typhoon Ulysses: Oplan Isabela, Handog PEZA
PEZA responded to the widespread calls #IsabelaNeedsHelp and #CagayanNeedsHelp, and immediately contacted ISU for relief operation.
PEZA amassed 4 tons of relief goods from its respective SEZs in Subic-Clark-Baguio Clusters. The collected goods were shipped to the University's main campus thru the assistance of the Tactical Operation Group 1 (TOG 1) of the Philippine Air Force.
SEZ Institute Council Chair Jacky Gaviola Gajudo from PEZA Head Office personally supervised the delivery of the collected goods, along with Deputy Zone Administrator Allan P. Datahan of the Baguio City Economic Zone and Cluster III Ecozones (BCEZ-C3E) of PEZA.
Revitalizing Economic Vibrance
PEZA and ISU recognize that 2020's turbulences from health crisis to inclement weather conditions have severely impacted the usual business, causing huge economic shock.
As such, initial talks from the First Regular Session of the SEZ Institute Council of PEZA and ISU, were emphasized on establishing and fostering ecozones that would cater respective economic planning and management functions, maneuvering the region toward economic advancement quests at the national level.
The Institute Council eyes for the formation of ISU Knowledge, Innovation, Science and Technology (KIST) Park, that will reinforce ISU in the field of industry-based researches, incubate start-up enterprises, and augment programs from international partners toward honing globally competent workforce.
The Council also envisions ISU Agro-Industrial Economic Zone with the University as Operator to front collaboration initiatives with agriculture practitioners and private sectors in spurring and accelerating agri-business development in the countryside.
In addition, the University is also set to offer promising academic programs: Master in Economic Zone Administration (MEZA), and Export-Standard Livelihood and Industrial Technology Education (ELITE).(JF/GZ/BJC-UMIS-CMS)