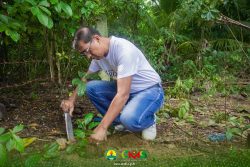 ECHAGUE, Isabela- – In a mass demonstration of commitment to environmental conservation and in the spirit of the Arbor Day Act (RA no. 10176), Isabela State University (ISU) embarked on a Tree Planting Program this morning (October 13), spreading seeds for a healthier and more balanced ecosystem.
The Tree Planting Program saw the active participation of administrative personnel, faculty members, and employees, graced by the presence of university officials Dr. Ricmar P. Aquino the University President, Atty. Romano P. Cammayo, Vice President for Admin and Finance Services, and Dr. Jose Gallena Jr., CEO of ISU-E,
Their mission: to plant 650 mahogany tree seedlings around the premises of the ISU Main Campus.
The 650 mahogany seedlings planted this day is part of the two-phase tree-planting commitment for SDG 13 (Climate Action) and SDG 15 (Life on Land). Next month, the ISU community will gather once more to plant another 650 seedlings. This time, bamboo.
ISU's Tree Planting Program is one of the University's efforts for environmental stewardship as reflected in its operational mantra as a University for Nature. This is in collaboration with the Department of Environment and Natural Resources- San Isidro for the provision of seedlings and other environmental services.
The Arbor Day Act, known as RA no. 10176, is a pivotal legislation that empowers ISU-E, all its employees and officials, and protect and nurture the nation's natural beauty with the environment.
The journey toward a greener and healthier ecology is well underway, with ISU leading the way.
-with Jeanne Matthew Pamintuan, ISU-CMS GIP Correspondent | Images: Solomon Acio, ISU-CMS GIP Correspondent
Event Gallery FULL, see: https://tinyurl.com/ISUETreePlanting