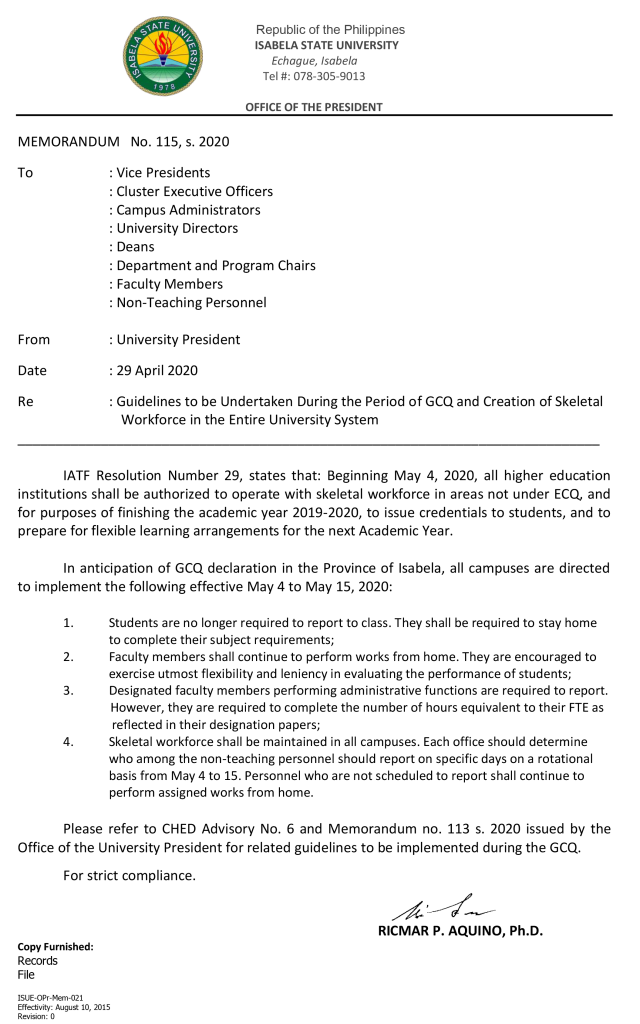 Office works at Isabela State University will be resuming starting May 4 as General Community Quarantine (GCQ) is enforced in the Province of Isabela.
This is in response to the Inter-Agency Task Force (IATF) Resolution No. 29, allowing Higher Education Institutions (HEIs) to operate admin offices for areas no longer covered by Enhanced Community Quarantine (ECQ).
With this, the Office of the University President has issued Memoranda nos. 115 and 117 for guidelines on back to work operations in the University system.
The guidelines were based on directives of Commission on Higher Education (CHEd), and IAFT Resolution no. 29, for HEIs to finish the academic year 2019-2020, issue credentials to students, and to prepare for flexible learning arrangements for the next Academic Year.
ECQ was extended to places with critical situations; while for areas, like Isabela, with moderate health concern under GCQ.
Work schemes for Non-Teaching Personnel
Effective for the next two weeks (May 4-15), office works comprising of skeletal workforce, will operate in a rotation-based scheme. Offices would determine who among the non-teaching personnel would report on specific days.
Personnel who are not scheduled to report shall continue to perform assigned works from home.
Under IATF guidelines on skeletal workforce, big office space would allow a maximum of Five (5) personnel to report. For small office space, a maximum of Three (3) personnel per office.
Suggested rotation includes Three (3) days reporting to office for Ten (10) hours per day; One (1) day work from home for Ten (10) hours; and One (1) day-off.
The schemes may be adjusted depending on the schedule of curfew hours of LGUs.
Reporting arrangements for Faculty Members, Students
Designated faculty members performing administrative functions were also being required to report. They are to complete the number of hours equivalent to their FTE as reflected in their designation papers.
Reporting schemes for faculty members with designations suggest Three (3) days reporting to office for a designated number of hours; One (1) day work from home; and One (1) day-off.
Other faculty members shall continue to perform works from home, and are encouraged to "exercise utmost flexibility and leniency in evaluating the performance of students".
Students of the University-system are no longer required to physically report. Instead, they are encouraged to do their requirements at home.
The University had already looked into possible measures to make-up with the Second Semester of A.Y. 2019-2020 that has been greatly affected by the pandemic.
Continuous health security on the University
Meanwhile, health protocols and security measures are still in high regard. Regular disinfection of all buildings and other facilities in the campuses were advised.
Body temperatures of all individuals entering the campuses would be monitored using thermal scanners.
Wearing of facemask is mandatory.