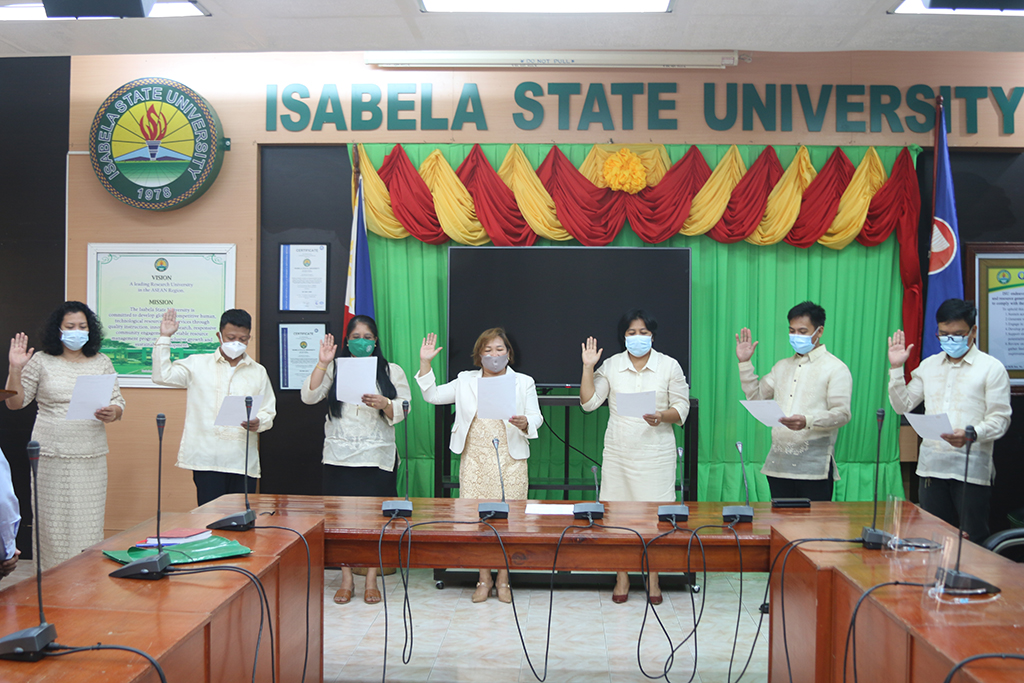 The newly-elected Faculty Federation officers for 2021-2022 have formally sworn to office this morning (January 6), in a ceremonial oath-taking before University President Dr. Ricmar P. Aquino.
ISU Ilagan's Dr. Drolly P. Claravall assumes post as Federation President, representing the Federation at the ISU Board of Regents.
Together with Dr. Claravall, the set of officers is composed of: Prof. Domingo M. Ramos (ISU Roxas) as the Vice President; Prof. Roderick Valdez (ISU Echague) as Secretary; Prof. Judith Daracan (ISU Angadanan) as the Assistant Secretary; Prof. Laila Ventura (ISU Roxas) as Treasurer; Prof. Vicente Saddul (ISU Cauayan) as Business Manager; Prof. Fely Corpuz (San Mateo) as Auditor; and Prof. Rowell Santiago (ISU Jones) as Public Information Officer.
In his speech, University President Aquino regarded the Faculty Federation as partner in advancing the University's core functions, as well as in pursuing the University's vision as a promising research university.
"Kayo ang prime movers ng University. Nakasalalay sa inyo ang development ng University lalong lalo na sa ating mga kabataan. Kung wala kayo, hindi natin ma-a-attain ang ating vision.", Aquino said.
Citing the report from the Office of the Vice President for Research and Development, Extension and Training (RDET)- which showed a rise in faculty research engagement from 49.23% in 2018 to 73.81% in 2019, the University President commended the faculty's contribution to the rise of trajectory of research publication, and assured of the continuing support from the management in recognition of their efforts and performance.
President Aquino mentioned that promotion opportunities for the faculty are always open thru institutional promotion scheme. With this, the President clued of the BOR-approved, revised portion of the Faculty Workload Guidelines that allot units for research to be included in their regular workloads.
This, as the President continued, would prepare the faculty for a new Merit System that is aligned to the University's vision, at the same time responsive to new guidelines of NBC 461 which provide greater weight on R&D.
President Aquino believes that advancing the interest of the faculty is advancing the institution as a whole.
"We just want to inspire you. Because if you are inspired, you are happy. And if you are happy and satisfied with your work, then you become productive. And as a result, there will be progress and development, attainment of our vision", the President remarked.
He furthered: "That is very important, to look into all of these because we really want to promote the interest and welfare of our rank-and-file faculty members".
President Aquino also told that he submitted request to the Philippine Association of State Universities and Colleges (PASUC) for another round of professorial accreditation, allowing qualified faculty to fill-in professorial items.
Dr. Claravall, meanwhile in her speech, assured the federation's commitment to work with the management in the pursuit of the University's strategic goals.(JF/GZ/BJC-UMIS-CMS)