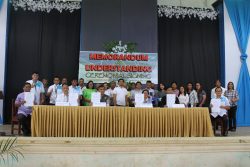 NEWSBIT | Isabela State University would now be working with Quirino State University and National Irrigation Authority in expanding the services ISU's Smart Water Infrastructure and Management (SWIM) Research and Development Center.
Earlier this Wednesday (March 16), the parties have signed partnership agreement that sees to the strengthening of agriculture-related programs for farmers including the establishment of model farm and livelihood training services.
The collaboration would also help to mitigate the recurring impacts of climate conditions to propel better conditions for agri activities. SWIM R&D already covers this area in its four major complementary research projects that focus on climate and water management.
Isabela State University has long been active in the generation of scientific knowledge on water management and climate change toward empowering communities, partnering with national and international agencies in various R&D ventures.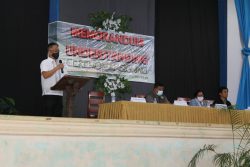 ISU has an on-going dialogue with universities and research centers in Japan and Vietnam both for "Integrated Flood and Sediment Management in River Basin for Sustainable Development" (FSMART) and "Integrated Flood and Water Resources Management in ASEAN River Basins for Sustainable Development" (IFWARM), which is funded by DOST- PCIEERD.
In addition, its SWIM R&D Center has just recently been recognized as a Niche Centers in the Regions for R&D (NICER) for Cagayan Valley, in recognition of its domain on Integrated Water Resources Management (IWRM) problems in the country.  (GZ/BJC/JF-UMIS-CMS)