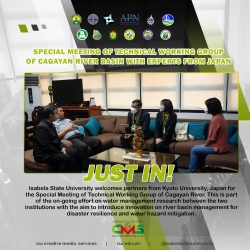 Isabela State University welcomes partners from Kyoto University, Japan for the Special Meeting of Technical Working Group of Cagayan River. This is part of the on-going effort on water management research between the two institutions with the aim to introduce innovation on river basin management for disaster resilience and water hazard mitigation.
The water research effort forms partnership among line agencies which are also present for the two day event, including the National Irrigation Administration, Cagayan River Basin Management Council, Department of Science and Technology, Japan Water Agency, and Quirino State University.
The delegates from Japan led by Dr. Khagendra Pralhad Bharambe of Kyoto University's Water Resource Research Institute together with UPLB's former chancellor Dr. Rex Victor Cruz met with ISU President Dr. Ricmar P. Aquino in a courtesy call this morning. (GZ/JF-UMIS-CMS)
---
Fostering Disaster Resilience through Participative Development Framework- Dr. Aqunio
The impact of the changing climate to the increasing events related to water hazard is a call that everyone needs to answer.
For ISU President Dr. Ricmar P. Aquino, this rallies for a strengthening of efforts among the academe, government, and public sectors as he addressed the stakeholders and the Technical Working Group of the Cagayan River Basin.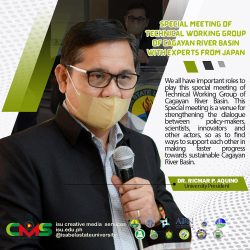 "We all have important roles to play at the Special Meeting of Technical Working Group of Cagayan River Basin. The Special Meeting is a venue for strengthening the dialogue between policy-makers, scientists, innovators and other actors, so as to find ways to support each other in making faster progress towards sustainable Cagayan River Basin".
This is the more proactive action, says President Aquino, in order to empower communities as they are the first one to feel the impacts of inclement weather conditions.
He referred to the previous flooding events during the Severe Tropical Storm Nalgae, and the devastating impact of Typhoon Ulysses that left an indelible mark in the flooding history of Northern Luzon.
"It is timely, as we just experienced another flooding these days. While its effect is still within the perplexities of our communities, we cannot just depend on their resiliency but be challenged to make action that would address the long impact of climate change in the river basin", Dr. Aquino said.
He adds: "given the vast amount of expertise that is gathered in this room, we carry out such enthusiasm on our initiatives, and will be able to shoulder this important responsibility very ably".
The Special Meeting is part of the continuing series of dialogue between ISU and its counterpart from Japan, the Kyoto University. The partnership already saw to the creation and implementation of various projects including IFWARM and FSMART initiatives, convening water management and DRRM practitioners for sustainable reservoir monitoring and research ventures. (GZ/JF-UMIS-CMS)
#OneISU | #ISUResearch | #ISUGlobal | #ISU4Nature | #ISU4People | #ISUEmpoweringCommunities
—-
ISU Creative Media Services Special Coverage to the Special Meeting of Technical Working Group of Cagayan River Basin