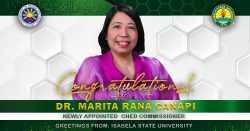 Isabela State University receives its new Board of Regents Chairperson from the Commission on Higher Education in the person of Dr. Marita R. Canapi after Malacañang confirms appointment of new commissioners early this February 9.
Dr. Canapi will replace the outgoing Dr. Lilian A. de las Llagas whose term was initially set to end on July 21 last year.
Prior to this endeavor, the incoming Chairperson has one of the most excellent leadership and academic profile from many of her affiliated institutions.
The new commissioner served as the second president of the University of Rizal System (URS), Vice President of Academic Affairs at University of Makati (2005 to 2011), and briefly served as Vice President for Academic Affairs at the Pamantasan ng Lungsod ng Marikina.
In addition, she was a distinguished academician, having been a mentor for Graduate Scholars of Smart Education Program and has previously taught Education, Research, Management, Physics and Mathematics at the University of Makati, Philippine Normal University, and Arellano University. She also rendered professorial lectureship and research advisership in the graduate school of Education at Arellano University Manila. She has co-authored a textbook in Research entitled "Research in Various Disciplines" published in 2008.
Dr. Canapi also has a proactive membership to renowned organizations including: pool of assessors of the Regional Quality Assessment Team of the Commission on Higher Education (CHED); board of the directors of the Philippine Association of University Women; member of Pi Lambda Theta, a national sorority of Women Educators; UNESCO Asia Pacific Network for International Education and Values Education for UNESCO APNIEVE; and is actively involved in the projects for Young Women's Christian Association (YWCA).
Commissioner Canapi will serve a three-year term until July 21, 2025. (GZ/BJC/JF-UMIS-CMS)
__________________________________________________________________________________
References:
Duterte names new CHED commissioners. 2022. PhilsStar Global. https://www.philstar.com/headlines/2022/02/13/2160460/duterte-names-new-ched-commissioners
About The President. University of Rizal- Cainta. Website. http://www.urs-cainta.com/joomla/index.php/administration/president