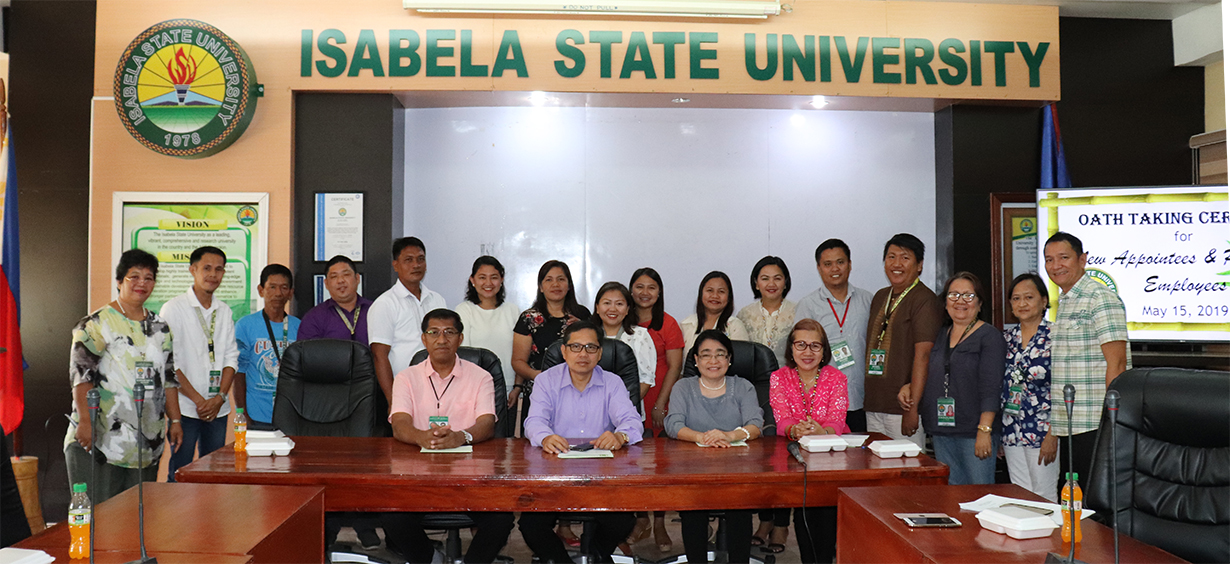 In assurance to the security of tenure of its employees, public servants of Isabela State University formally took oath Wednesday, May 15, before University President Dr. Ricmar Aquino.
About 14 employees assumed respective posts; with four (4) faculty members institutionally promoted, five (5) non-teaching personnel promoted, three (3) newly appointed faculty members, and two (2) newly-hired non-teaching personnel from ISU-Roxas.
University Executives, in their messages, see the workforce upgrade as means of boosting the university's efforts in the delivery of its services.
Atty. Romano P. Cammayo, Vice President for Administrative and Finance Services, reiterated Section 1 of Article XI of the 1987 Philippine Constitution, "Public office is a public trust."
He then discussed the legal aspect of the responsibilities of the government employees, and went along commitment, volunteerism, and accountability which the employees should possess.
Addressing conduct of initiative, Dr. Editha F. Ausa, Vice President for Academic and Related Affairs, urged the appointed and promoted faculty members and staff to "do the extra mile to the University" and perform even without their superiors.
"Whether we are under contractual, job-order status, instructor, or professor, let us do our job to the best of our ability even if no one is looking at us," she said.
Dr. Juanito P. Rosini, Vice President for Planning, MIS, External Affairs, Public Relations, and Business Affairs, encouraged the employees to aspire for competency by studying or acquiring new skills. He reminded, "character is more important than reputation".
Meanwhile, the university President stressed promotion is just the beginning of more responsibilities, reminding the employees to work hard for themselves and for the university.
Dr. Aquino later advised, praying is an important tool in achieving life's goals.
"If you want something, pray and do something so God will help you attain your vision in life," he ended.
The newly appointed personnel will undergo training and Alay sa Bayan (ALAB) induction program while the promoted ones will undergo reorientation on the Civil Service Code as mentioned by Dr. Jay P. Chy, University Director for Administrative Services.