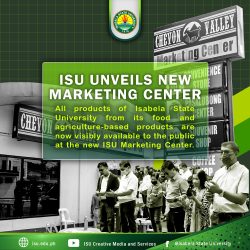 All products of Isabela State University from its food and agriculture-based products are now visibly available to the public at the new ISU Marketing Center.
Earlier this morning (July 12), ISU Executive Officials formally unveiled the Marketing Center in a soft-launching ceremony.
The Center would serve as a One Stop Shop to promote and exhibit all generated food-based products from its "One Campus, One Product".
In a short message during the unveiling ceremony, ISU President Dr. Ricmar P. Aquino says "this is one way of showcasing the different innovative products that we have in the entire university, to showcase that we have good products to be offered to the public".
The University President also shared his vision to develop the center as a hub for technology commercialization for future product innovation derived from ISU research and student immersion.
"We can allow the faculty members to display their products on a consignment basis. Punuin natin ng maraming produkto (Let us put more products)".
He adds: "we can also allow our entrepreneur and agribusiness students to have their immersion here, train them to develop their products. Mag-isip pa tayo ng magagandang strategies (Let us plan more strategies) to showcase our products, return our income, and immerse our students".
The center is also being eyed to serve as a convenience store, pasalubong center, and a coffee shop. (GZ/BJC/JF-UMIS-CMS)