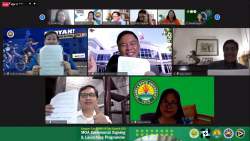 Isabela State University has rolled-out its newly-developed telemedicine program earlier this day (May 28) in a bid to help medical firms with the concern on hospital absorptive capacity and the dearth of medical workforce in the continuing onslaught of COVID-19 crisis.
Dubbed as Cauayan City COVID-19 Care Consult (C5), the program is the first telehealth mechanism project for COVID-19 in Cagayan Valley.
It has been initially developed for Cauayan City as the LGU takes on Smart City concepts in improving its medical services for COVID.
The program is in collaboration with the Department of Science and Technology R02 (DOST-R02), Commission on Higher Education R02 (CHED-R02), and Dynamic Outsource Solutions, Inc., which have signified partnership in a MOA signing this day.
ISU's lead centers that worked on the program include the Health Innovation Center (HIC) and Business Intelligence Research and Development Center (BIRDC), along with the BPO Training Simulation Center.
C5 aims to facilitate teleconsultation and monitoring services to COVID patients diagnosed asymptomatic to mild cases, who could not be accommodated in the hospitals and are required to undergo self-quarantine.
With the program, an attending medical personnel can contact and administer convenient medical services to the patient via mobile phones, computer, or any communication devices.
The telemedicine offers a 24/7 nursing intervention for 14 days, with monitoring and consultation in every 4 hours.
As explained by HIC Director Mr. Jolo Galabay, the telemedicine will be operated by group of allied health professionals and faculty members from ISU College of Medicine, College of Nursing, School of Midwifery, and College of Arts and Sciences.
They will be working in close coordination with Cauayan City Health Office (CHO).
The program would be tapping the services of ISU students from the allied health courses. This will serve as their medical immersion under their Related Learning Experience (RLE) in lieu of face-to-face field engagement.
They will be monitored by clinical instructors upon generating consolidated reports to be regularly submitted to the CHO.
This would allow immediate medical response from the CHO pursuant to the recommendations of licensed medical practitioners in cases of emergency or worsened condition experienced by the patient under monitoring.
Aside from COVID care consult, the telemedicine also offers mental health services thru the Psychology student-practitioners.
In a speech, University President Dr. Ricmar Aquino recalled the development of C5 from a testing project for students, to a full-blown health innovation to address COVID-19- thru the help of its partner institutions.
He exclaimed: "ako po'y nagpapasalamat sa ating mga partners in making this project come into its realization. And we hope that this coming month, we could start to help especially our frontliners, our hospitals, and our existing quarantine facilities which could not anymore accommodate all these patients".
The President concluded, "I hope that after piloting this project, we hope that we can extend this project to the entire province of Isabela, and maybe soon or in the future, the entire Region 02".
Meanwhile, Cauayan City Mayor Bernard Dy remarked, "this is something to be broadcasted. This is something to be shared", signifying his interest of expanding the telemedicine operations of C5 as a smart healthcare innovation for COVID-19.
Dynamic Outsource Solutions President Mr. Edgardo H. Cayton, whom LGU Cauayan and ISU have partnered with in setting-up the BPO Training Center some years ago, assured of the C5's role in establishing health communication which has been a primary need during the health crisis.
To Cayton, the telemedicine program "represents the speed by which your local leaders have presented a solution to the COVID situation".
Also, DOST-R02 Regional Director Engr. Sancho Mabborang believed the program to be responsive in the improvement of the health system in the region.
Dir. Mabborang said, "I would like to congratulate ISU for always coming up with innovations, improvements, and for not stopping in its contribution to R&D and to other projects that will help the community.
CHED-R02 Regional Director Dr. Julieta M. Paras also commended ISU, saying "this signifies that ISU is committed not only to render quality higher education, but also to extend relevant services to the community.
Dr. Paras also took note of the program's benefit to the students in terms of RLE, calling it as "timely and appropriate avenue in providing gainful experience using the online technology".
CHED R02 has designed a 5-day training workshop to introduce the allied health staff in approaching the telemedicine program. (JF/GZ/BJC-UMIS-CMS)