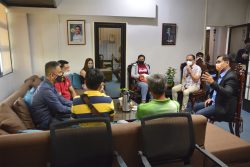 Isabela State University looks to a promising linkage with Quirino State University and the Provincial Government of Quirino in ushering development opportunities for the Quirino Province.
Early this Tuesday (March 8), QSU President Dr. Hermenegildo F. Samoy Jr. and Attorney Tomas L. Baccac from the Quirino Provincial Council visited ISU's research facilities on Cacao, Organic Agriculture, Fisheries, and Small Ruminants.
The visit is set to draw a tripartite agreement for the transfer and sharing of ISU-grown technologies to boost the agri-aquaculture practices of local folks and industries in Quirino.
ISU President Dr. Ricmar P. Aquino offered to assist QSU in establishing a Technology Based Incubation or TBI, a strategic platform identified by the Department of Science and Technology in assisting the growth of local innovators and technopreneurs.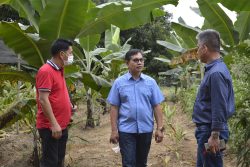 Isabela State University houses one of the region's well-matured TBIs that have produced a number of incubatees now operating at an industry level, such as Fresh Options.
It was also thru the pioneering efforts of ISU's Cagayan Valley Small Ruminants Research Center that the country developed a standardized cutting process for goat meat or chevon, which aims to improve its marketing package.
The partnership of ISU's Center for Organic Agriculture, Research, and Extension & Training with the Bauertek Corporation, a Filipino-owned international pharmaceutical company, established a model for academe-industry partnership in the countryside with ISU working on the R&D of raw materials used in the production of herbal supplements.
In addition, ISU houses the Freshwater Fisheries Center, one of the region's two Niche Centers in the Regions for R&D or NICER, which leads the region on R&D initiatives for aquaculture and indigenous fish species.
ISU remains to be a partner for sustainable regional development and community involvement.(GZ/BJC/JF-UMIS-CMS)