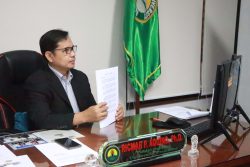 Isabela State University takes part in the new partnership among State Universities and Colleges to innovate instruction for medicine and health.
ISU President Dr. Ricmar P. Aquino joined the presidents from 11 SUCs (March 29) in the signing of partnership agreement for the project "Medical Education of the Future: Pioneering Innovations in the Medical Education", which stem-up from the Global Academic Leadership Program (GALP) course of Asian Institute of Management.
The partnership will allow joint research and development ventures, consultancy services, sharing of information, exchange of faculty for part-time teaching, among others.
"I think this memorandum of agreement signing is a most apt and proper activity as it signals the collaboration and cooperation among Philippine universities", said Chairperson J. Prospero "Popoy" De Vera III of the Commission on Higher Education.
The chairperson graced the occasion virtually from his academic trip at Canada to discuss the credentialing concern of medical practitioners there.
De Vera added: "Philippine universities must recognize from the very start that their competitiveness lies in their ability to work together".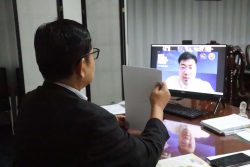 The Chairperson also went on to emphasize that competition among Philippine universities is over because of the internationalization of education and the ASEAN integration.
"The earlier the Philippine universities understand that their ability to work together is what makes them competitive over the long term, the better that universities in the country will develop", De Vera furthered.
ISU has recently entered the provision of instruction on the medical field thru its newly-established College of Medicine. (GZ/BJC/JF-UMIS-CMS)