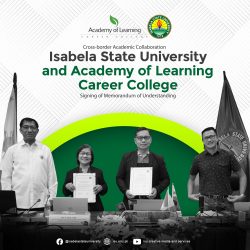 In a streak of internationalization ventures this month, Isabela State University secures yet another cross-border collaborative engagement with Academic of Learning Career College (AOLCC), a Canada-based higher education institution.
This morning (August 27), ISU and AOLCC top executives join for a virtual signing for the memorandum of understanding to formalize partnership on priority areas of collaboration, including student mobility and faculty exchange among other promising academic ventures.
The new partnership would expand ISU's already growing internationalization initiatives as it is currently gunning for the Times Higher Education Impact Ranking, the world's most prestigious recognition for quality academic performance.
In a message during the virtual signing, ISU President Dr. Ricmar P. Aquino assures of the University's effort in the collaboration, saying it "commits to pursue common goal and to take part in the initiatives for academic exchange and research collaboration".
The president views the on-going global efforts as means to harness competitive template in offering ISU's brand of education to learners around the globe. This, as recently, ISU-Echague Main Campus received green lights from the Bureau of Immigration as the later approved the offering of academic courses due for cross-border enrollment of foreign students.
Meanwhile, Mr. Peter Bordo of AOLCC's Student Services expressed their enthusiasm for the new venture. "To be honest, we at AOLCC West Coast are very excited about this new collaboration and are looking forward to future projects with ISU so that more international students can access quality programs and help strengthen our respective communities".
Mr. Bordo went on to emphasize the synergy of academic strengths from both institutions, calling the partnership "a match like no other".
Both higher education are also now enabled to set joint international conferences, exchange of academic resources, and work on joint research activities and publications for the next five years. (GZ/BJC/JF-UMIS-CMS)