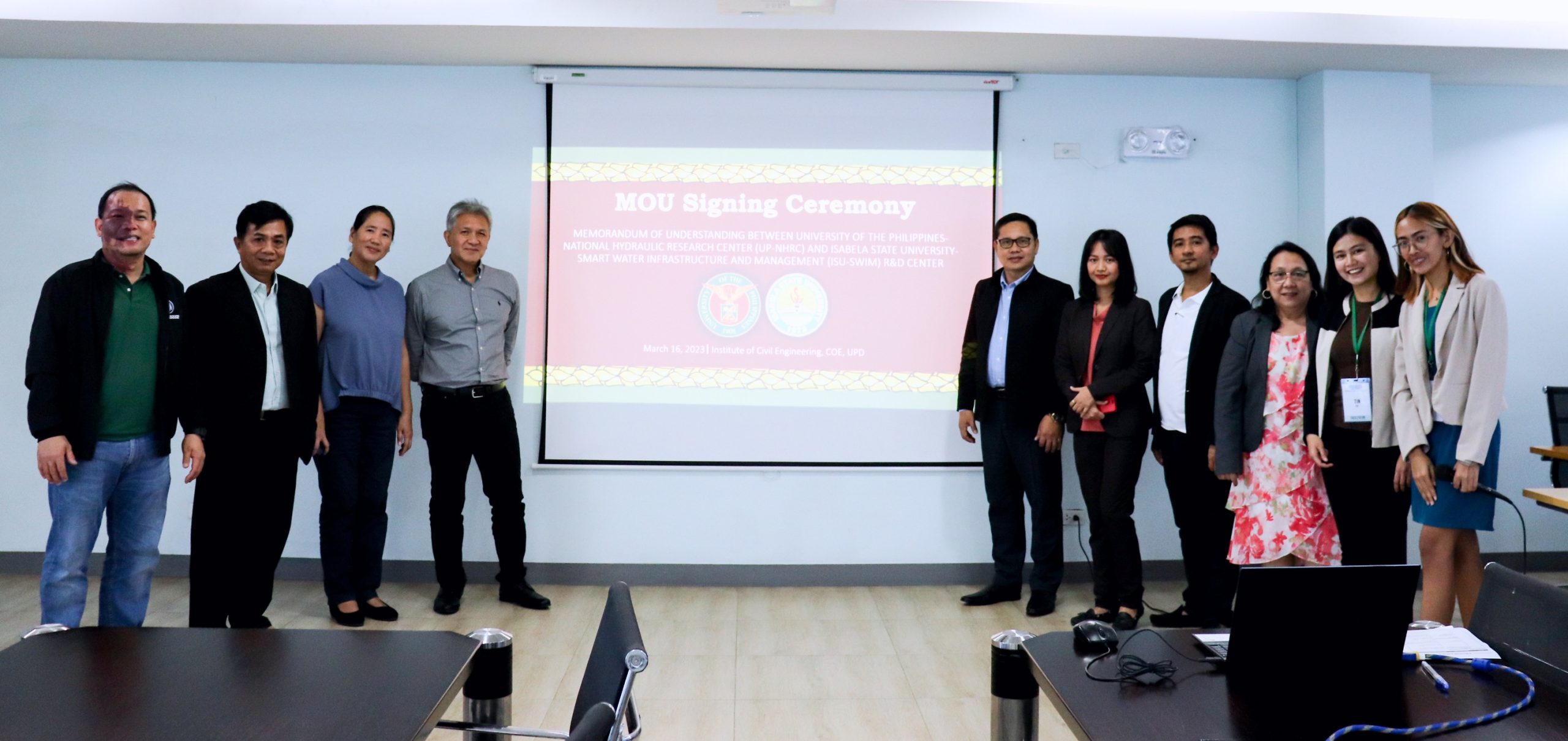 The Smart Water Infrastructure and Management R&D Center of the Isabela State University and National Hydraulic Research Center of the University of the Philippines had formalized their collaboration through a ceremonial signing of Memorandum of Understanding on March 16, 2023 at the Institute of Civil Engineering, College of Engineering, University of the Philippines – Diliman.
This partnership aims to conduct research and provide technical advice on various problems on water resources development and management, hydrology, hydraulic and coastal engineering, fluid mechanics, and other related fields. Through this collaboration, ISU-SWIM and UP-NHRC will work together in exchanging scientific and technological information, planning complementary research and development, and facilitating collaborative work among scientists, engineers, and experts in the field of water resources management.
Primarily, Dr. Ma. Theresa T. Payongayong, the Officer-in-Charge of the University of the Philippines – Diliman and Vice Chancellor for Academic Affairs, warmly welcomed the parties of the two research centers. Dr. Eugene C. Herrera, the Center Director of the UP-NHRC also accentuated in his welcome message the need to promote water security in the country. Likewise, Dr. Ricmar P. Aquino, the University President of Isabela State University, also conveyed his welcoming speech and discussed the value of cooperation in resolving water-related problems. Moreover, Dr. Jeoffrey Lloyd R. Bareng, University Director for Research and Development, explicated the rationale and aim of the ceremony. Dr. Lanie A. Alejo, Director of Water Research Center, oriented the attendees of the ceremony about the objectives, fields, and forms of cooperation and coordination stipulated in the MOU.
Lastly, Dr. Guillermo Q. Tabios, Professor Emeritus of UPD, expressed his profound enthusiasm and great anticipation to have a shared vision, and ignite collaborative engagements through the newly forged partnership. Dr. Balderama also conveyed a heartfelt commitment message to accentuate how the interests and goals of the water centers will drive each party's motivation and commitment to apply engineering knowledge to hydrology to address water-related problems and make these resources more accessible to people. Conclusively, this partnership will pave the way to the establishment of state-of-the-art hydraulic laboratory and conduct of more R&D studies on hydraulic engineering education to further promote water resources management in the Cagayan Valley.
Report from | ISU Smart Water Infrastructure Management R&D Center