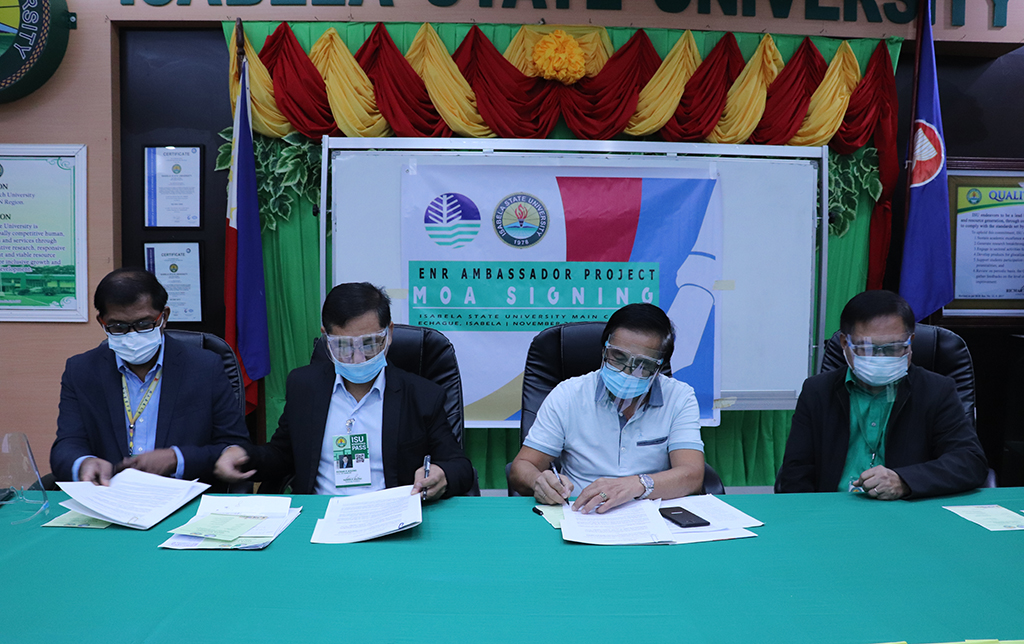 Environment and Natural Resources (ENR) Ambassador Project of the Department of Environment and Natural Resources (DENR) has identified 15 students from campuses of the Isabela State University to rally Isabelino youths toward environmental protection and conservation efforts.
Earlier this Friday (November 27), DENR sealed partnership with the University for the said project in a ceremonial memorandum of agreement signing.
The project would engage students in promoting national awareness on the role of natural resources in economic growth and the importance of environmental conservation and ecological balance towards sustained national development.
ISU was tapped as the higher education partner in the implementation of the project under DENR's "Tayo Ang Kalikasan".
ISU for Nature
One of the bannered operational mantras of the University is its commitment in Nature.
Being an advocate of environmentalism, ISU houses various R&D centers that are dedicated in the generation of scientific information towards conservation and protection of environment.
Recognizing that some of human activities are detrimental to nature, University President Dr. Ricmar P. Aquino took it to reflect from last week's Typhoon Ulysses, and emphasized the importance of safeguarding the environment.
He explained in his speech, "although we are not the center, the last typhoon was so devastating that it destroyed a lot of properties and lives of the people in the region. So as citizens of the republic, as people of Region 02, and province of Isabela, we have this huge responsibility of protecting our environment".
"Isabela State University will commit itself to this advocacy to assist and to help DENR in maintaining and preserving, protecting our environment. Because if we do not act now, then I do not know what will happen", Dr. Aquino added.
Meanwhile, Provincial Environment and Natural Resources Office (PENRO) Director Marlon C. Agnar thanked ISU for responding to the partnership request.
"Environmental protection is a responsibility that DENR cannot do alone. The support and participation of the academe, the youth and the communities in general, are vital for this department to succeed in these endeavors", he said.
The PENRO Officer then turned to the 15 selected students, saying they are key players toward "Cleaner and Healthier Isabela for future generations of Isabeliños".