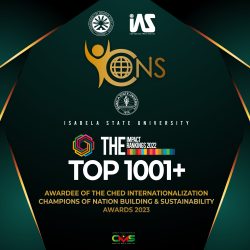 HATS OFF! | #TatakISU: Isabela State University formally receives its Internationalization Champions of Nation-building and Sustainability (ICONS) Award citation from the Commission on Higher Education this afternoon (October 6) as one of the top performing institutions that brought the brand of Philippine Higher Education in the global standing.
ISU, which began its hold in the international ranking of the Times Higher Education Impact Rankings 2022, was able to clinch at the world's top 1001+ institutions working towards the attainment and creating impact on the 17 Sustainable Development Goals.
With this stint, ISU is one 29 HEIs in the Philippines that entered the said impact rankings.
ICONS Award 2023 recognizes the valuable efforts of Philippine Higher Education Institutions (HEIs) in advancing the internationalization of Philippine Higher Education.
Dr. Prospero E. De Vera III, Chairperson of CHED, regards the event in his message as "a way to reflect" on the standing of HEIs in the global landscape of education.
"These HEIs have commendable performance in recognized international rankings, trailblazing efforts to advance the internationalization of HEIs, and pursuing innovative initiatives that contribute to the country's economic and societal goals. What we are today is to continue and build upon the success of the ICONS Award, continue the tradition celebrating the growth the number of PHEIs that were included in the international ranking metrics", elaborated Chair Popoy.
Dr. De Vera also reflected on the journey that took place in reuniting the collective goal of PHEIs in terms of academic competitiveness, saying that the real competition lies in the global arena and not within and among the state universities and colleges.
"Let us remember that the rankings are not the ultimate goal, but really just a mechanism for us to continuously improve ourselves. The measurement of success is not a one-year rank or a one-year score; it is how you consciously target and strategize that every year you want to increase the scores, you want to compare yourselves to others, you understand what you are doing better, and you do more of it so that every year you continue improving", added Dr. Popoy.