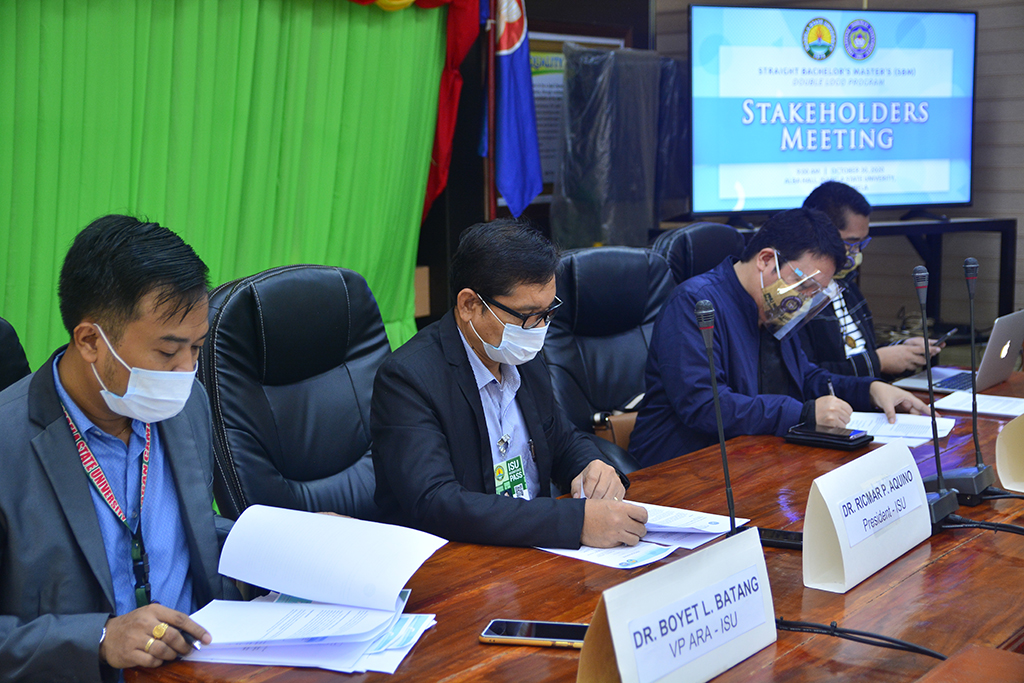 Isabela State University (ISU) and Philippine Normal University (PNU) meet Friday morning (October 30) for the Stakeholders Meeting to furnish curriculum development of the Straight Bachelor to Master (SBM) in Agricultural Education.
This is the third academic dialogue of the institutions' partnership on the double logo program which aims to produce educators in the field of Agriculture.
The stakeholders' meeting gathered academic affairs officials from PNU and ISU, together with Department of Education (DepEd) and Department of Agriculture- Agricultural Training Institute Region 02 (DA-ATI R02).
They discussed the results of the feasibility study conducted early September this year, which showed promising support in propelling the said straight program.
About 400 individuals including administrators, officials, and students from Region 02 and Cordillera Administrative Region (CAR) participated in the feasibility study.
For the academic administrators, majority of them were approved of the straight program's viability in terms of Demand dimension; Supply; Technical, which concerns the course's alignment to National thrusts; it's being ideal; Economic, which concerns addressing mismatch between manpower and supply; and among others.
Results for students also showed they're likely to enroll in the curriculum. Some of the results' highlights indicate that: two (2) of every three (3) students wanted to pursue Agriculture; and nine (9) of every 10 students would likely prefer ISU and PNU to be their learning institutions.
Some of the Implementing Rules and Regulations (IRR) are still yet to be discussed such as Retention Policies and the conduct of industry immersions.
The making of prime Agriculturist-Educators
This collaboration between ISU and PNU will be the first in the country to offer an integrative straight program for students who would want to become both Agriculture specialists and Educators at the same time.
The proposal introduces 3+1+1 year-scheme in their academic journey. In the first three (3) years, enrolled students will stay in PNU-Northern Luzon (PNU-NL) for a year and half to take General and Professional Education courses. Afterwards, they will move to ISU-Echague Main Campus (ISU-E) to take major courses in Agriculture for the same period- completing the first 3 years in the proposed year-scheme progression.
The next one (1) year would be intended for practical immersions with partner industries. Then finally, students will be doing their theses for a year long, to give them ample time to publish their manuscript in research journals as per requirement of the graduate school.
The straight program will be an honors class, which is considered in offering a straight program as per CMO 15 s. 2019. It will be consisted with two (2) cohorts of 30 students each.
According to PNU Vice President for University Relations and Advancement, Dr. Lordinio A. Vergara, the first cohort would be consisting of 30 students coming only from Isabela; while the second will accommodate another batch of 30 students from interested students around the country.
The program encourages Senior High School (SHS) graduates with specialization in Science and Technology, Engineering, Agriculture, and Mathematics (STEAM). Students from Technical-Vocation Livelihood (TVL) strands are also welcomed.
Dr. Vergara also noted that there would be no second batch until the pioneer students of the straight program will exit with their master's degrees, so as to thoroughly nurture and harness the first products of this academic venture.
In the words of ISU Vice President for Academics and Related Affairs, Dr. Boyet L. Batang, the joint-venture is even intensified as both institutions were recognized in their respective fields of excellence- believing this would further assure the success of running the program.
ISU Echague Main Campus' College of Agriculture has been identified as Center of Development in Agriculture thru CMO no 35 s. 2015 by the Commission on Higher Education (CHEd).
PNU, on the other hand, is nationally recognized as the Center for Teacher Education by virtue of R.A. 9647.
ISU President Dr. Ricmar P. Aquino said he would be thrilled to see the product of this engagement in propelling the productivity of agriculture in the country.
Backing progress of initial Agriculture efforts
Dr. Aquino in his speech, expressed his concern for the agriculture situation in the Philippines- despite being globally acclaimed as an agricultural country, there are apparent difficulties in terms of mere productivity due to deteriorating number of practitioners or academically-grown Agriculturists.
The ISU President believed that thru this joint-venture, ISU and PNU can be able to produce a number of able manpower to supplement the efforts of the nation's Agriculture Department.
PNU President Dr. Bert J. Tuga seconded: "the graduates of this program will be hybrid- they will have this special identity, they will have this special qualification, and they will be much needed in the field of teacher education and the agriculture".
With the comprehensive research engagement of the upcoming students, they will be much of a help in the proliferation and discovery of new knowledge, technologies and practices that may prove to be useful in the advancement of agriculture in the country.
When fully furnished, the straight program proposal will be subjected to the approval of the institution's respective Board of Regents.